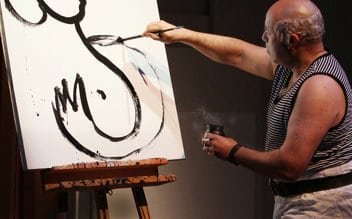 Center REPertory Company has announced they will stage the Bay Area premiere of A Weekend with Pablo Picasso, October 21 through November 19, 2011.
Written and starring Herbert Siguenza and directed by Todd Salovey, A Weekend with Pablo Picasso is the second production of Center REP's 45th season.
"Six paintings in one weekend! – who does he think I am, Dali?"
No, he's Pablo Picasso, the most astonishingly prolific and influential artist of the 20th century.
Now comes a new portrait of Picasso from famed writer, actor and painter Herbert Siguenza, of the nationally renowned comedy troupe Culture Clash. Acting the irrepressible Picasso with "boundless energy, exuberance and humor," Siguenza takes us inside the mind – and paint brush – of the man who changed how we look at the world.
Picasso is widely known for co-founding the Cubist movement and for the wide variety of styles that he helped develop and explore. Among his most famous works are the proto-Cubist Les Demoiselles d'Avignon (1907) and Guernica (1937), a portrayal of the German bombing of Guernica during the Spanish Civil War.
Photo by Hector Cruz Sandoval