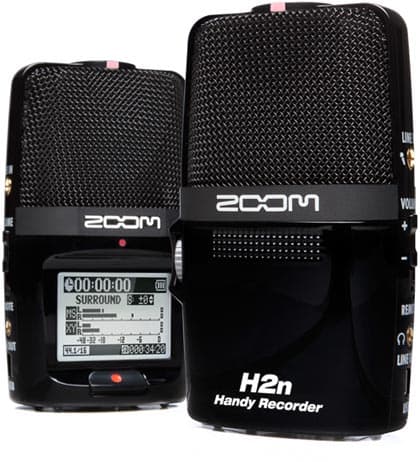 Here's some great news for film-makers, musicians and journalists alike. Zoom, everyone's favorite Japanese maker of field recorders, has announced a new model called the Zoom H2n. It's priced at $199, and will hit the U.S. this September according to a representative.
Representing a new generation of portable recording, the H2n is Zoom's most innovative handheld recorder to date. We've packed groundbreaking features into an ultra-portable device that allows you to record pristine audio anywhere you go.

The H2n features our best microphones yet and is the only portable recorder with five studio-quality microphones onboard. This design enables the H2n to offer four unique recording modes: Mid-Side (MS) stereo, a technique used for many years in film and broadcast, 90° X/Y stereo, 2-channel and 4-channel surround sound. With its newly designed user interface, 1.8-inch backlit LCD display for crystal-clear monitoring and built-in reference speaker that allows you to playback recordings on the spot, the H2n is remarkably easy to use in any application.

"A lot of musicians are going to be knocked-out when they use this device, but we're really interested in seeing the response from the film and broadcast industries," says Scott Goodman, President of Samson. "Mid-Side miking has been used in those industries since the '80s, but it's never been available in a handheld recorder."

Further enhancing its flexibility and convenience, the H2n provides over 20 hours of continuous operation on just two standard AA alkaline batteries. In addition, the H2n features a new data recovery function and a High-Speed USB 2.0 interface. You can even use the H2n as a USB microphone and record directly to your computer.

No matter the application, the H2n brings the very best in stereo recording to a convenient, user-friendly package that fits in your pocket.

Zoom H2n Handy Recorder. The new standard in portable recording.
The H2n will be available September 2011 for $199.