West Sonoma Coast Vintners, an association of wineries on Sonoma's coastline, has announced it will launch a new wine festival in August called the "West of West Wine Festival."
The inaugural event will be held one hour north of San Francisco in the coastal hamlet of Occidental, California, and will feature Pinot Noirs, Chardonnays and Syrahs.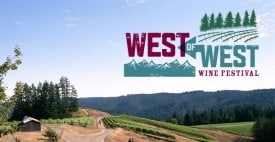 Seminars include: a Winemakers Studio where Ted Lemon will interview Burt Williams about the early history of West Sonoma Coast vineyards and winemaking; Taste the West Sonoma Coast where five winery owners share 2-3 of their wines and discuss the common qualities found in West Sonoma Coast wines while also revealing the subtle differences within the region; and Terroir which features a Blind Tasting of West Sonoma Coast, Russian River Valley and Oregon Pinot Noirs.
Welcome dinners hosted by member wineries will highlight Sonoma's renowned cuisine with local culinary talent. Saturday will begin with morning seminars and interviews, followed by a Grand Tasting on Saturday afternoon and culminating that evening with a Whole Hog Feast at the 130 year-old Union Hotel. Sunday will feature barrel tastings and open houses at all participating wineries.
Over 28 Sonoma-based wineries are scheduled to participate.
Summer. The West Coast. Wine. What's not to love?
West of West Wine Festival

Occidental, California
Aug 5-7, 2011

Participating Wineries
Anthill Farms Winery
Baker Lane Vineyards
Benovia
Benziger Family Winery
Boheme Wines
Ceritas
Chassseur
Cobb Wines
Doc's Ranch Vineyard
FAILLA Wines
Flowers Vineyard & Winery
Fort Ross Vineyard & Winery
Freeman Vineyard & Winery
Freestone Vineyards
The Hartford Family Winery
Hawk Hill Vineyard
Hirsch Vineyard & Winery
Lioco
Littorai Wines & Estate Winery
Marimar Estate Vinyards & Winery
Martinelli Winery
Patz & Hall Wine Company
Peay Vineyards
Ramey Wine Cellars
Red Car Wine Company
Small Vines
Sojourn Cellars
Whetstone Wine Cellars
Wind Gap