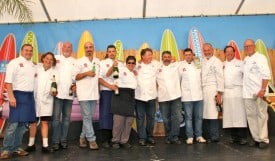 More than 200 Sonoma County wineries, grapegrowers and chefs are preparing for the three-day festival known as the Sonoma Wine Country Weekend.
The fourth annual event will take place over the labor day weekend includes lunches, dinner parties, BBQs, a wine auction and, of course, plenty of wine tastings.
"Our family has farmed in Sonoma County for more than 130 years where the bounty of our property fills the kitchen and the table," said Steve Dutton, Sonoma Wine Country Weekend Honorary Co-Chair, "We have some long-standing traditions, and in classic Dutton Ranch style we are hosting a rustic-yet-elegant ranch-style dinner party that will feature not only rare wines made from our vineyards, but also family recipes including homemade apple pie made from the fruit of our orchards."
Tickets range from $85 to $500 with proceeds benefiting local communities and charities serving students, children, farm workers and people in need. According to organizers, to date, more than $10 million has been raised jointly by the Sonoma Valley Vintners & Growers Foundation and Sonoma County Vintners.
2011 Sonoma Wine Country Weekend Schedule At-A-Glance

Friday, September 2 and Saturday, September 3 – Winery Lunch and Dinner Parties
12:30 p.m. – Winery Lunch Series, sponsored by TricorBraun WinePak (Fri. only)
6:00 p.m. — Winery Dinner Parties, sponsored by TricorBraun WinePak (Fri. & Sat.)

Saturday, September 3 – Taste of Sonoma at MacMurray Ranch, Healdsburg
11 a.m. – 4 p.m. – Taste of Sonoma at MacMurray Ranch

Sunday September 4 – Sonoma Valley Harvest Wine Auction at Cline Cellars, Sonoma and Winery BBQs
12:30 p.m. – Winery BBQs across Sonoma County
1 p.m. – 7 p.m. Sonoma Valley Harvest Wine Auction, sponsored by Trilogy Glass & Packaging
2:30 p.m. – Live Auction Begins

For more information and tickets: www.SonomaWineCountryWeekend.com