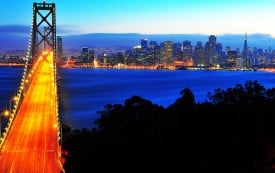 The Lake County Winery Association, a non-profit organization that serves over 40 Lake County vintners, is hosting a Lake County wine tasting event in San Francisco. On August 20th, over a dozen Lake County wineries will leave the mountains north of Napa Valley and venture to San Francisco to participate in the "Wines With Altitude" event at The Winery SF on Treasure Island.
"We are so excited to be bringing the Lake County Wine Invasion to San Francisco," said Monica Rosenthal, executive director of the Lake County Winery Association. "These high-altitude wines have big flavors, great value and are amazingly easy to enjoy with good friends and family. We are pleased to be able to share them with bay area consumers."
Trade and media are invited to attend a private preview tasting from 12 pm – 1 pm. The consumer portion of the tasting will last from 1 pm – 5 pm. Participants will have the chance to taste over 100 high elevation wines from various wineries in Lake County, while enjoying live music, food trucks, and local Lake County olive oils. There will also be an opportunity to preview the People's Choice Award winning wines.
Featured Lake County wineries include Beaver Creek Winery, Cache Creek Winery, Gregory Graham Wines, Langtry Estate & Vineyards, Rosa d'Oro Winery, Shannon Ridge Winery, Shed Horn Cellars, Six Sigma Ranch & Winery, Sol Rouge, Steele Wines, and Vigilance Winery.