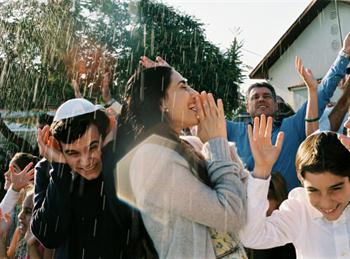 Calling all film lovers: time to head to the Castro tonight!
The 31st San Francisco Jewish Film Festival opens tonight the screening of Mabul (The Flood), a film about a family's struggles to keep up appearances on a tumbledown collective farm on Israel's coast.
Director Guy Nattiv and Actor Yoav Rotman will be arriving on the red carpet. After the film an opening night gala will be held at the Swedish American Hall on Market.
On Sunday, July 24, also at the Castro Theatre, Hollywood icon Kirk Douglas will attend the SFJFF to receive the Freedom of Expression Award, with a special presentation of Spartacus.
The three-week festival, screening in four Bay Area venues, features the highest quality Jewish films from around the world. As the first of more than 100 Jewish film festivals worldwide—and still the largest, with some 30,000 attendees—SFJFF is an influential showcase bringing together filmmakers and audiences to celebrate Jewish cinema and explore its new frontiers.
San Francisco Jewish Film Festival

July 21 – August 8, 2011

Opening Night Schedule

EVENT:         MABUL (THE FLOOD) screening with guests

LOCATION:         Castro Theatre, 429 Castro Street

DATE & TIMES:         Thursday, July 21

6:15 PM         MABUL Director Guy Nattiv and Actor Yoav Rotman arrive Castro Theatre for photo ops and Sound Bytes

6:30 PM         Opening remarks and introductions by Executive Director Peter Stein, Program Director Jay Rosenblatt, Board President Dana Doron, and Consul General of Israel Akiva Tor

6:40 PM         Screening of MABUL (THE FLOOR)

8:00 PM         Q&A with Filmmakers of MABUL- Guy Nattiv and Yoav Rotman

9:00 PM           Opening Party –  Gala party at the Swedish American Hall, 2174 Market Street