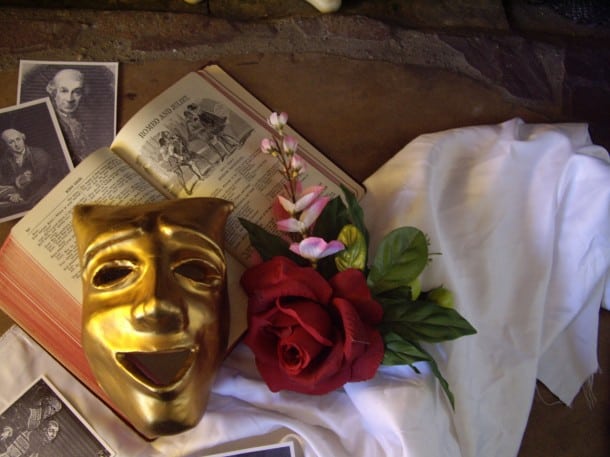 Alphabet Arts is a non-profit, artist collective dedicated to bringing quality live performances for both youth and adult audiences. This innovative production of Romeo and Juliet – a cover band operetta, is part of its  "2011 Summer Conservatory" program that features young people aged thirteen to twenty.
As conceived by director Mark Sitko, the classic play's original dialogue is augmented with contemporary musical interludes that capture the themes and mood of their respective scenes. Although the tragic tale is more suitably the subject of grand opera, the spoken "libretto" is certainly characteristic of a lighter operetta. Regardless of how one chooses to define its form, it is, for the most part, a successful attempt in making The Bard more accessible to the average theatre patron.
The setting of this romantic story of star-crossed love is 16th century Verona, Italy, yet the performers wield swords donning modern costumes. The poetry is spoken with decidedly American accents.  The songs cover all genres, from pop ballads to rap. And the set design is minimalist and stark, enhanced by simple lighting and seamless musical direction by Kirk Berkland – working with the assistance of a skilled trio of musicians (Will Kellett; Kevin Yoshikawa; Jose Martinez).
The opening sequence is a poignant solo rendition of Dire Straits' "Romeo and Juliet" by chorus member Miranda Morris. It sets just the right, wistful tone and serves as an introduction to the narrative for the uninitiated. It's immediately followed by a realistic brawl between the Capulets and Montagues, featuring some of the best swordplay and fight choreography I've seen in any amateur production (C. William Klipstine; Jacob Sanchez).
There's no doubt that reciting verse with the correct rhythm and diction is a daunting task for any actor. If done poorly, the text can become virtually unintelligible. And there's always the danger that the meaning can be lost if too much emphasis is placed upon the aesthetic qualities of a line. As to be expected, this company of players meets the challenge with varying degrees of success.
John Kellett plays a charismatic Romeo, evincing the deep turmoil of a young man caught between his adoration for a girl and his loyalty to his family with earnest conviction.  As is the case with most of the ensemble, his metered delivery is adequate, but would benefit from clearer elocution. He shines, however, as he sings "Crazy Love," displaying an inspired and mature singing style.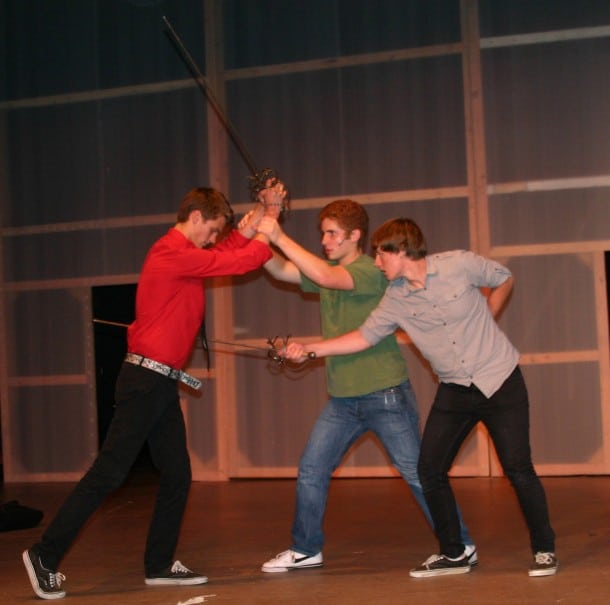 He's ably supported by the inimitable Taylor Barnes, whose comic portrayal of the flamboyant Mercutio remains true to the character and is among the most daringly passionate depictions I've seen.  Moreover, he showcases surprisingly proficient rapping skills with the tune "Current Events"!
Stacy Lammers and Katie Rounds, playing traditionally male characters Benvolio and Princess Escalus, respectively, make their smaller roles seem large by virtue of their exceptional talent and undeniable charm. And the remaining cast all contribute strong supporting turns.
Scene-stealer Michael Combs, as the female Nurse, brings a naturalism and comedic sensibility that would have made Edward Kynaston proud. His choral number, "Girls Just Want to have Fun," with delightful choreography by Tori Evans and Chloe Townsend, and highlighting the superb vocal direction of Lisa Kellett, is a total hoot!
What can one say about Rebecca Inderhees as Juliet? Rarely have I seen anyone realize with such truth and lucidity of purpose the emotional content behind the beauty of Shakespeare's words. The effortless clarity and precise timing she brings to each phrase is never diminished by her astonishingly brisk tempo.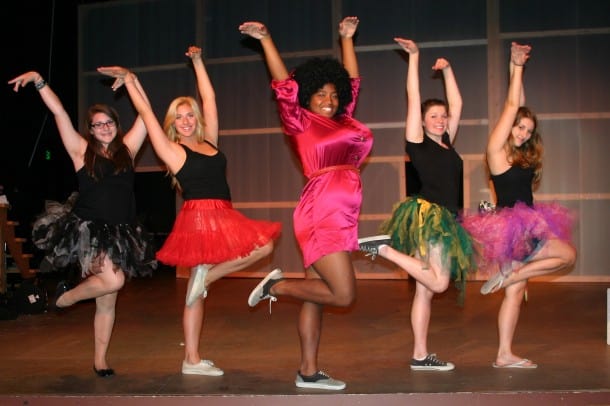 But Ms. Inderhees' amazing grasp of the playwright's subtext is not a function of superior technique; it's a matter of one's DNA. And coupled with her magnetic stage presence and impressive vocal prowess ("Between Two Lungs"), one can't help but rejoice in witnessing a genuine star early in her formation. Bravo!
This limited engagement ends July 21st at the Morgan Hill Community Playhouse.