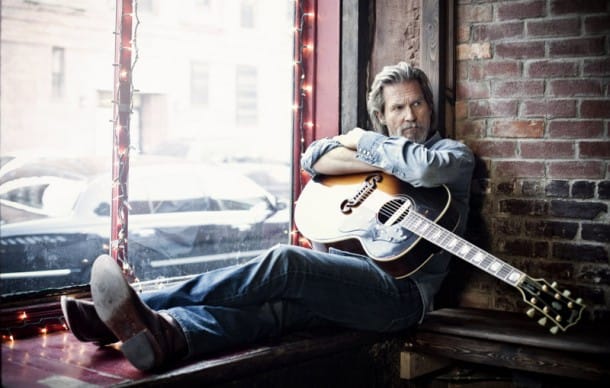 Marin County will become host to one of the world's most celebrated actors when Academy Award-winner Jeff Bridges brings his band, Jeff Bridges and the Abiders to the Marin Veteran's Auditorium on August 24th at 8pm.
Coming off the recent Oscar win for his portrayal of a grizzled former country music legend in the 2009 film Crazy Heart, actor, songwriter and musician Bridges will release his self-titled major label debut album – Jeff Bridges – on August 16th, 2011 on Blue Note Records. The album is being produced by Bridges' Crazy Heart collaborator and multiple Grammy-winning songwriter, musician and producer T Bone Burnett.
Jeff Bridges with his band The Abiders will perform songs from the film Crazy Heart as well as from the soon to be released album, Jeff Bridges. The album features material by a host of world-class songwriters, including Burnett's Crazy Heart collaborators the late Stephen Bruton ("What A Little Bit of Love Can Do," "Nothing Yet") and John Goodwin ("Maybe I Missed The Point," "Everything But Love," "The Quest"), Greg Brown ("Blue Car"), and Bo Ramsay ("Either Way").
The album also features several of Bridges' own compositions, including "Falling Short," "Tumbling Vine," I Will Wait" (which he wrote with Burnett and John Goodwin) and "Slow Boat" (which he wrote with Burnett and Thomas Cobb). To perform the songs, Burnett assembled a number of his key repertory players, including keyboardist Keefus Ciancia, guitarist Mark Ribot, bassist Dennis Crouch, pedal-steel guitarist Russ Pahl, and drummer Jay Bellerose, as well as guest vocalists Rosanne Cash, Ryan Bingham, Sam Phillips, and Benji Hughes.
Bridges and Burnett, who is known for his work with Allison Krauss and Robert Plant, Elton John and Leon Russell, and the Grammy-winning soundtracks to O Brother, Where Are Thou?, and Walk the Line, met in 1980 when Kris Kristofferson introduced them during the filming of the motion picture Heaven's Gate. The relationship has continued over the years as Burnett selected the songs that appeared on the soundtrack to the 1998 film The Big Lebowski, starring Bridges, as well as co-wrote several songs for the soundtrack to Crazy Heart, including "The Weary Kind," which earned Burnett his second Oscar nomination and first win for "Best Original Song," along with Bingham, who also took home an Oscar, a Golden Globe, and a Grammy Award for co-writing "The Weary Kind."
Bridges' multi-faceted career has cut a wide swathe across all genres. In addition to his music, he has starred in numerous note-worthy films such as True Grit, The Men Who Stare at Goats, TRON, Seabiscuit, The Big Lebowski, Tucker, The Fabulous Baker Boys, and many more, had his photographs published to much critical acclaim, produced Golden Globe nominated films, founded End Hunger Network, a nonprofit organization dedicated to feeding children around the world, and is currently the national spokesman for the Share Our Strength/No Kid Hungry campaign that is fighting to end childhood hunger in American by 2015.
Jeff Bridges and the Abiders

Marin Center, August 24, 8pm

Tickets go on sale July 11.

Prices: $75/$55/$45

www.co.marin.ca.us