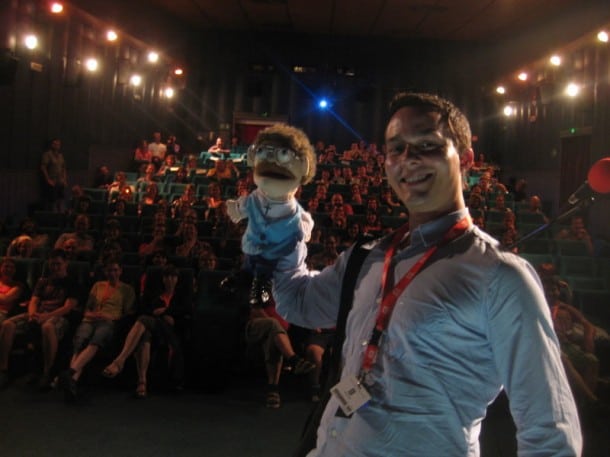 Canadian independent filmmaker and Cinequest alum, Aaron Houston, had reason to celebrate this weekend. His new feature, Sunflower Hour, won the Independent Camera Award in the Forum of Independents competition at the Karlovy Vary International Film Festival.
The film, a mockumentary about the seedy underbelly of puppeteering and what it really takes to make it in childrens television, was made with virtually no budget. Shot in Vancouver, the cast includes some emerging stars including Kacey Rohl (Red Riding Hood), and Ben Cotton (Battlestar Galactica).
Early reviews are glowing: Peter Debruge of Movietrailertrasj.com wrote ,"The breakout of Karlovy Vary seems to be 'Sunflower Hour,' Aaron Houston's hilarious mock-doc send-up of the weirdos who work in children's TV."
We admit more than just a bit of bias on this one. Aaron has been a guest of Stark Insider and several podcasts ever since his short, Two Theories, One Stone debuted at Cinequest 2010 in San Jose. Since then Clint and Aaron have talked about film-making, the independent scene, and, recently, even the Stanley Cup Finals. This is his first full-length feature, and it follows in the foot-steps of the great mockumentary genre films such as Best in Show, and Spinal Tap, among others.
Congratulations to Aaron and the crew. We look forward to having them back on Stark Insider to talk about Karlovy and the initial reception of the film. Hopefully, the film will soon be screened in North America.