Sure, the scenery is breathtaking, there are tons of fun outdoor activities (hiking, biking, fishing, hunting, snow and water sports galore) to choose from, and there is a surprising amount of big-city culture available in Missoula, Montana. But why hasn't anyone spread the word that the men here are the cream of the country's best! Particularly coming from San Francisco where metrosexuals are paraded as the new "macho".  So, if you're looking for some bright, active, outdoorsy, fun, competent, great-looking men (with good values) I suggest you grab a girlfriend and  head here to bag your limit.
Easy one-stop "shopping"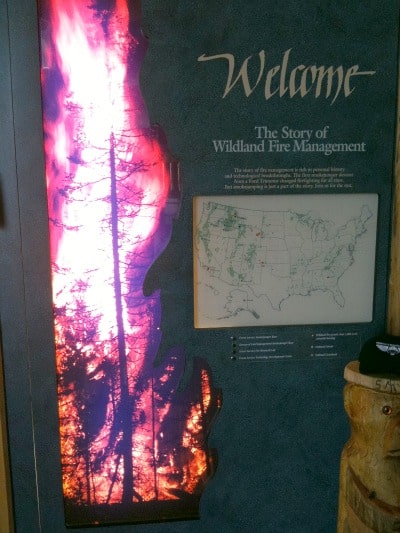 The epitome of Missoula macho-men can be seen at the Smokejumper Visitor Center.  This is the nation's largest training base for smokejumpers: heroic firefighters who parachute into forests to fight wildfires.
The good news is that complimentary tours  are offered several times daily. I'm sure they offer these so you can see the training facility and get an overview on the life of a smokejumper, but OMG, the eye-candy is unbelievable. We talked to one great guy after another and they all seemed exceedingly sincere, dedicated and totally hunky! (Is there such a thing as negative body fat? These guys were all ripped to shreds. Perhaps because  one of the physical requirements of the job is the gear pack-out. Smokejumpers must be able to carry this gear, which can weigh up to 115 pounds, to a designated safe spot which may be up to 10 miles away in rough terrain.) Further icing on the cake: they are trained "seamstresses" since they're responsible for sewing their own storage bags and parachutes. Plus, since many of them live on-site, they can also cook.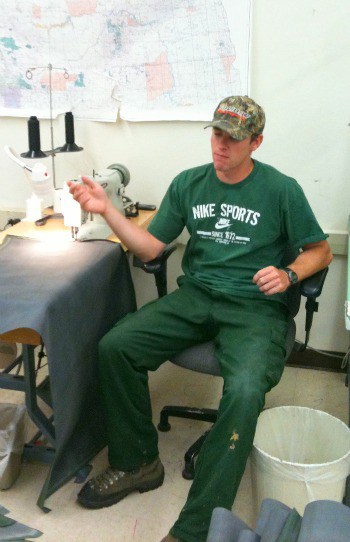 I asked rookie, Tyson Atkinson, to describe the intense training phase, as  he took a little sewing break.
He told me the preliminary training was really intense. It  covered various aspects of parachute jumping: from exit, manipulation, set-up and landing, along with pack-out tests, tree climbing, and survival skills.
"Our first week, we had to spend three nights in the woods, without a tent or sleeping bag, digging lines all night. It was really rough," he said.
When I asked if he got scared before jumping, he replied thoughtfully, "I'm a little scared every jump. If you're not, then there's probably something wrong with you."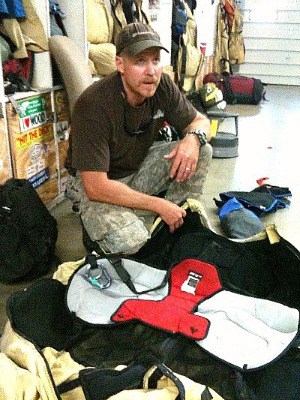 Foreman, Steve Reed (17 year veteran and about 250 jumps later) concurred,
"Your confidence builds over the years, but you also realize how much can go wrong. Sure, it's scary jumping into a 1,600 degree roaring fire, but it's also a lot of fun– being involved with a lot of like-minded guys in something bigger than you."
If they aren't putting out a fire, than you'll find these brave specimen spread throughout the facility, packing cargo boxes for fires, checking parachutes, maintaining the equipment, or doing other miscellaneous jobs.
Next time, I'm definitely going to bring some homemade chocolate chip cookies to sweeten things up.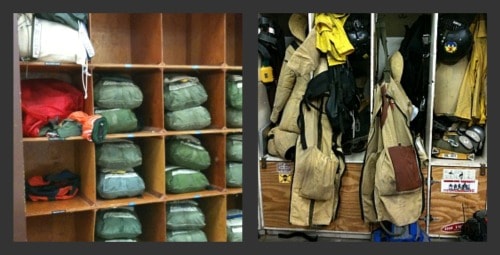 Tours are available at 10 and 11 am, 1, 2, 3, and 4 pm daily. The tour takes approximately 45 minutes and is free of charge.
Other gorgeous guy sightings: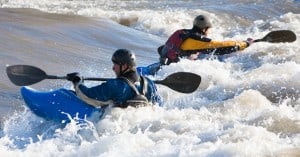 –Downtown Caras Park hosts many special events. Two that happening during my visit were: Out to Lunch- free live music every Wednesday afternoon throughout the summer and Downtown Tonight, a similar event on Thursday nights. Both offer dozens of food vendors (and a beer garden at night) and plenty of outdoor seating. Take a break and venture over to the river to watch the kayakers frolicking on Brennan's Wave.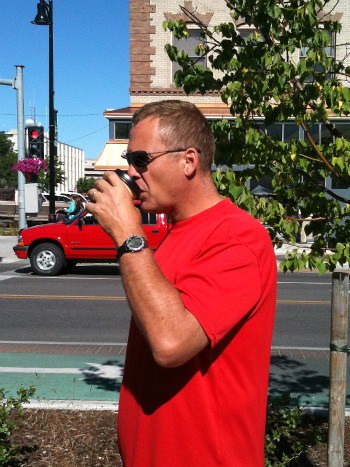 –Saturday markets: Start at the Saturday Farmer's market where you'll see lots of guys doing their weekly produce shopping at nearly 100 food stalls. Head up the street to the People's Market to check out the local art, jewelry and clothing. If you're not so macho-inclined, there's a very sweet balloon guy who creates animal filled jungles fashioned from colorful balloons.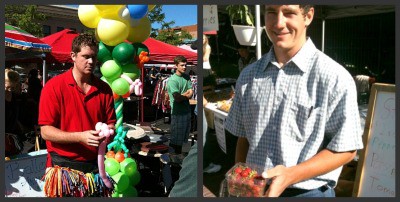 –Anywhere outdoors. Best places to get geared-up is:
-Big Sky Bike will handle all your cycling needs.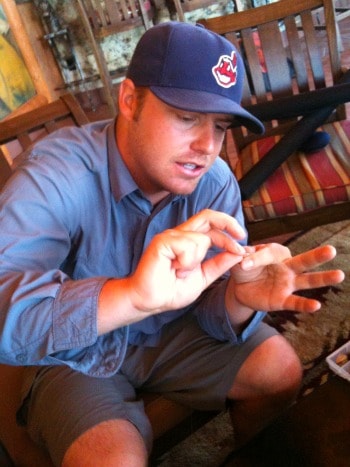 -Grizzly Hackle   has been providing fly fishing expertise, along with the best gear and guided trips for over 20 years. Plus, they have the rep for cooking up the tastiest river BBQ's. Sign up for an excursion with them and the cute guides will patiently teach you some fool-proof casting moves.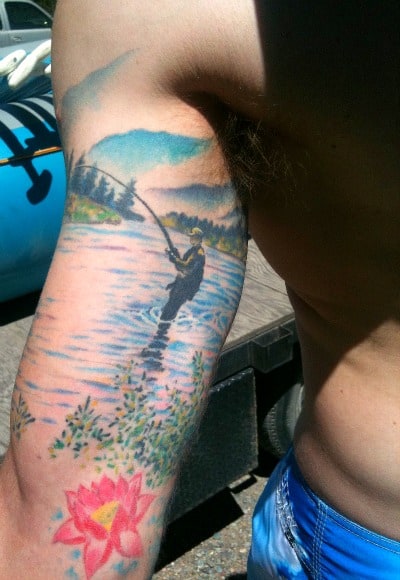 -10,000 Waves is the bomb when it comes to exhilarating whitewater rafting, kayak lessons, and guided river trips or if you don't want to get your hair wet, they also offer scenic river-floating.
– at the end of the day there's an abundance of downtown brew pubs, all packed  with guys who actually have time for a social life.
Flying in: Visiting Missoula
Missoula International Airport, about 15 minutes from downtown by car, is served by Horizon Air, SkyWest, United, Northwest, Allegiant Air and Big Sky.  Both above hotels have an airport shuttle to whisk you to your room.