The San Francisco Fringe Festival returns for its 20th year with over 40 shows that promise to uphold the Festival's reputation for pushing the envelope of imagination. This time, it looks like the troupe from the Indian Ocean island of Mauritius, snared in government red tape last year, will finally take the stage with their drama about forced migration, The Madogs of Diego. A group from Missouri will show us a piece called Hamlet vs. Zombies. And L. A. attorney Murray Meyer leaps over the bar with It's Criminal: the Comedy.
The 20th Annual San Francisco Fringe Festival runs for twelve days, September 7-18, 2011, in downtown San Francisco. Forty of the shows, numbering over 200 performances, will be at the EXIT Theatreplex, 156 Eddy Street and around the corner at 277 Taylor Street. Others will be presented in "Non-Traditional Fringe Venues" – one of which is an art gallery, the FivePoints Arthouse on Tehama Street. Another staging will be in a dumpster at a soon-to-be-announced location.
Here's a sampling of what's offered for the 2011 SF Fringe, with performers from the Bay Area, all over the U.S., and…Mauritius.
Sarah Lau (San Jose) mixes a Yazuka, "The Golden Girls," and Cantonese death threats in The Secret Adventures of Fat Woman and Remedial Girl. Jonathan Goldberg (NY, NY) introduces old-time lefty pitcher Rube Waddell to The Reptile Girl from the circus in Sousepaw: A Baseball Story.
Rupert Wates & Friends (Brooklyn, NY) returns with another version of Joe's Café, a story in song by real saloon singers. Also back for his seventh time at the SF Fringe is playwright Joe Besecker (SF), this time with a "political mystery," The Execution of Nancy Drew in Waco, Texas.
Survivors of Last Comic Standing and SF Sketchfest, The Meehan Brothers (SF), bring their brand of comedy in a show called, well, The Meehan Brothers' Show. Promising more comic lunacy is The David and Brady Show (SF), starring David Gallagher and Brady Lea who combine "slapstick, tall tales, a Critical Monkey, and cheap-ass puppets in a multimedia endovaganza." They also include snacks.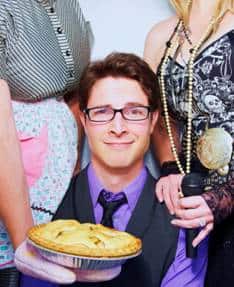 Blink and You Might Miss Me, actor Larry Blum's (L.A.) stories of his encounters as a movie extra and stand-in for the great and the near-great.  "An amicably bitchy compendium of celebrity dish."  Wart-and-all tales of Raquel Welch, Van Johnson, Roseanne, Simon Cowell, Ronald Reagan…and many more.
And once again, we ask the question, what would a Fringe Festival be without one show using the F-word in its title?  This year it's a solo piece by Nashville's own Kevin J. Thornton called I Love You, We're ****ed. It's a "wild mix of stand-up comedy, storytelling, and original music." The national tour of ILYW* has been called hilarious by no less that Unzipped Magazine.
Tickets for the 12-day San Francisco Fringe Festival, Sept. 7-18, range from $7.00 to $10.00, with a ten-show Frequent Fringer pass at $75 and a five-show pass at $40. The EXIT venues are all within walking distance of Union Square and the Powell Street BART station.
Lead photo: Joe's Cafe, Repert Wates – from 2010 Fringe Festival. Photo by Marco Prozzo.