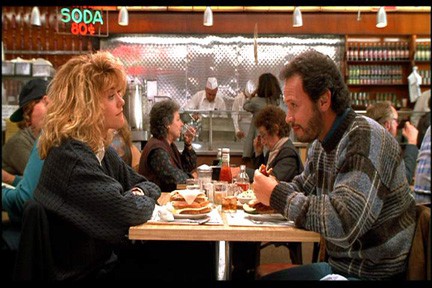 This has classic written all over it. Take an epic film — the one with the scene. Pair it with a spectacular location (and no stranger to love-torn rendezvous). And you get one unforgettable experience. The film is When Harry Met Sally, and the location is Union Square, San Francisco. Say no more. Well, except for the important stuff, like the deets!
It's all part of the kick-off for the 31st annual SF Jewish Film Festival.
We've been told that SFJFF has partnered with Film Night in the Park again this year to bring a hearty helping of Jewish humor to the Square – this time, with a little drama on the side.
The outdoor screening of Rob Reiner's classic is free and takes place Saturday, July 16 at 8:45 PM.
Starring Billy Crystal as Harry Burns, the culturally Jewish everyman (arguably American cinema's first), Meg Ryan as the sunny, vaguely neurotic Shiksa Sally Albright, and featuring the most infamous Jewish deli scene in cinematic history (at New York's famous Katz's Delicatessen, no less), the film asks the age-old question: can a straight man and woman truly ever be just friends?
Organizers say, "Bring your own best friend/lover/life partner, your appetite for witty banter, and remember to pack a sweater or you'll catch a chill."
The 31st edition of SFJFF runs July 21 – August 8.
To get you in the mood (if you know what I mean), here's a little "teaser":
Our advice? Have what she's having.
See you @ the Square!
When Harry Met Sally – Outdoor Screening

Saturday, July 16, 8:45pm

In Union Square, San Francisco (between Geary and Post Streets and Powell and Stockton Streets)

Film Screens at dusk (approximately 8:45 pm)

Free Admission