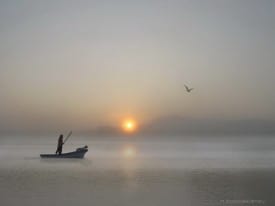 Having escaped a long snowy winter in Lake Tahoe, I've reveled in the light and heat of the Baja desert. I've felt held and protected. Befriended. Deeply connected with the slow pace of life by the Sea of Cortes. Moving away from the world of excess to the world of simplicity, we turned the dial to minimize our 'doing' mode and lit up our 'being' mode.
Now, six months later, the time is upon us to prepare for our migration north. We are no different from the gray whales or snow geese in their migration patterns. Yet suddenly I begin to flood with all the negatives about leaving this sacred sea. Feeling as though I must let go of a winter's worth of memories, I feel fractured, uprooted. The season is closing here, the heat is rising; airplanes and highways carry more friends away each week.
Commuting between one home and the other, there are some monumental transitions to manage. Not least of which are the emotional swings that I encounter as I travel back and forth. In Loreto-Baja, the town of one traffic light and a million fish, life moves at a slow pace. In California, it's more about keeping your speed on the freeway.
I am part of a community of folks that move back and forth, like the tides, from our North American homes to our Baja homes, several times a year. I have watched others go through this process, trying to learn from their experiences. So I think I have some idea of what to expect. I stay open to whatever this transition might mean for me, and return to my personal axiom: When you open a new door, you never know what's on the other side. I imagine myself standing on the threshold of our other home; how strange the wall-to-wall carpet and pine walls will feel after half a year surrounded by saltillo tile and stucco.
I find myself resisting. Steering clear of the transition zone, that place of limbo. I've got one foot on either side, and a big sea in between. Questions come up that beg for answers: Will I still fit in the old places? Do I want to? What/who will I be happy to see? What will I miss? How will I know where I really want to be? And the greatest fear: Nobody in that other world will understand how frayed and stretched my heart feels.
Lately I've been reminding myself of a few things while facing this transition:
Do not futurize. Looking too many steps ahead instead of looking inward causes worry and anxiety. I ground myself in this quote from Byron Katie "All worry is a story of the future."
Don't let one day pass without soaking up the warm sun, the calm water, and the close friendships. Every day is precious.
Stay in my own business. It only matters how I feel about my life; others may have their opinions, but that is their business.
Pay attention to my own needs. Daily.
As I say adios to some and bienvenidos to others, my intention is to reach a place of acceptance—that in this flow of life the process of migration is part of what feeds my soul, from one season to the next.
Photo courtesy of h.koppdelaney.