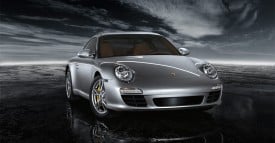 What do Porsches and police have in common? On June 26 they will share the attention at History Park to create some excitement, as well as family fun and education.
Tapestry Arts and the Loma Prieta Region of the Porsche Club of America, have partnered with History San José, the Starbird Youth Center of San José, the County of Santa Clara Parks and Recreation Department, and the San Jose Police Foundation to create an inaugural Porsches and Police day.
On June 26 from noon to 6 PM the streets of History Park in San José's Kelley Park will be lined with more than 60 privately owned Porsches and police cars from local cities.
The San José Police Department, as well as other local law enforcement departments, will be on hand with local police exhibits, their motor units, K9 (canine) demonstrations and mounted units. An appearance by Police Chief Chris Moore, as well as Santa Clara County Sheriffs, Santa Clara County Park Rangers and other officers will allow families to mingle with our finest public servants.
There will be a display of Teslas, vintage and new Porsches and more.
Family fun and activities will include trolley car rides, balloons, children's crafts, and a visit from Binky the Clown.
"This is truly an exciting project," said Alida Bray, President and CEO of History San José. "We love to provide History Park as the host venue for several nonprofits who come together in the interest of education and entertainment for families."
Live music will be performed by The Hitmen from 12:30 PM – 2:30 PM, the Cadillac Jack Band from 4 PM to 6 PM and the Jubilee Christian Center Choir will perform in between the band music.
Refreshments will be available for purchase by Willow Street Pizza and Lou's Village, beer by Bottomley Distribution and wine by Guglielmo Winery, as well as inside the Pacific Hotel at O'Brien's Ice Cream Parlor.
Funds raised at the Porsches and Police event will provide programs and services designed to enlighten, entertain, educate and inspire children and their families in the community, through the nonprofit partnerships.
History Park is located at 1650 Senter Road, between Phelan and Keyes Avenues, inside Kelley Park. General admission is $3 and children under 8 are free. Admission is free for members of History San José. Parking is $6.
A portion of the proceeds will benefit the San Jose Police Foundation as well as Tapestry Arts.