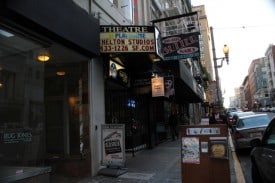 The SF Playhouse has announced four of six plays for 2011-12, the theater's ninth season.
Bill English, Artistic Director said, "These titles, all new to our community, are from some of the most exciting playwrights working today. Each has a unique voice with a prophetic vision of our time that will deepen our understanding of our selves and the forces at work in our world."
Opening the ninth season is the west coast premiere of Honey Brown Eyes by Stefanie Zadravec, a heart crushing encounter during the Bosnian War reminding us of the fine line between friend and foe.
Gina Gionfriddo's Becky Shaw will finally make its Bay Area debut under the direction of Associate Artistic Director, Amy Glazer and Annie Baker's off-Broadway hit, The Alien's will brighten our Spring with its west coast premiere.
Martin McDonagh will follow with his hilarious first play set in the USA, A Behanding in Spokane.
"The season revolves around fear and hope, the opposite human impulses that drive us to do our best and our worst. And ironically, our fears can bring out the best, and hope lead to the worst," added English.
Performance rights are being negotiated for two additional shows to be announced as the summer progresses.
Behind the Scenes at SF Playhouse
The SF Playhouse's Ninth Season: 2011-2012: Fact Sheet

West Coast Premiere
Honey Brown Eyes
By Stefanie Zadravec
Directed by Susi Damilano
Sept 20-November 5th, Press Opening September 24th

Bosnia, 1992. Two kitchens. Two soldiers. Once members of a band together. Now on opposite sides of a war. Can a bond formed through music survive a world spinning out of control? Unlikely partnerships emerge in this play of horror, humanity and stunning relevance.

TBA
November 15-January 14, Opens November 19th

Regional Premiere
Becky Shaw
By Gina Gionfriddo
Directed by Amy Glazer
January 24-March 10th, Press Opening January 28th

From their first blind date, which includes an unscheduled visit to the police station, this couple, along with the newlyweds who set them up, surprise us-and themselves-in a comedy thriller The New York Times called "as engrossing as it is ferociously funny, like a big box of fireworks fizzing and crackling across the stage!". This play asks what we owe the people we love the most and the strangers who land on our doorstep. A 2009 Pulitzer Prize finalist.

West Coast Premiere
The Aliens
By Annie Baker
Directed by Lila Neugebauer
March 20th-May 5th, Press Opening March 24th

In the town of Shirley, hanging out by the dumpster behind the coffee shop, two young men meditate on music, philosophy, 'shrooms, and Bukowski. When a teenage employee asks them to relocate, they find the disciple they've been waiting for. A beat-tinged, psychotropic journey, Annie Baker's The Aliens is a funny and heartening look at friendship, ritual, and small town New England.

Regional Premiere
A Behanding in Spokane
By Martin McDonagh
Directed by Susi Damilano
May 15th-June 30th, Press Opening May 19th

Take a man searching for his missing hand, two con-artists out to make a few hundred bucks, and an overly curious hotel clerk, and the rest is up for grabs. From Academy Award Winner Martin McDonagh, the writer of The Beauty Queen of Leenane, The Pillowman, and In Bruges comes a comedy as black as sin, caustic as acid, funny as hell.

TBA
July 10th-Sept 15th, Press Opening July 14th