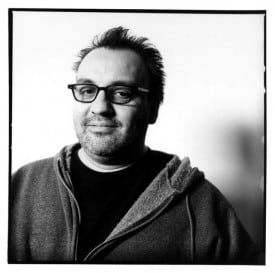 One of our favorite San Francisco theaters has just announced its 2011-12 season. Magic Theatre Artistic Director Loretta Greco announced the five-play season that features a raucous revival of playwright Claire Chafee's hit, Why We Have A Body, three World Premieres and one American Premiere.
The World Premieres include Annapurna by Sharr White, Jesus In India by Lloyd Suh (American Hwangap), and Bruja by Luis Alfaro (Oedipus el Rey). Also, Scotland's leading playwright, Linda McLean, will hold her American Premiere of Any Given Day.
Claire Chafee's Why We Have A Body, the comedy that rocked San Francisco, returns to kick off, not only the 2011-12 season, but also what will be a continuing celebration of past Magic Theatre productions as Magic celebrates its 46th year. Directed by Katie Pearl, Body features Lili, a lesbian P.I. who stalks men cheating on their wives. When she is not channeling Joan of Arc, Lili's sister, Mary, holds up a 7-Eleven and directs traffic. Their mother, Eleanor, an archeologist, specializes in – what else? – the female brain. The play premiered at Magic in 1993 and ran to sold out houses for six months.
Greco will direct Annapurna, a breathtaking story about the longevity of love. After twenty years apart, Emma tracks Ulysses to a trailer park in the middle of nowhere for a final reckoning. What unfolds is a visceral and profound meditation on love and loss with the simplest of theatrical elements: two people in one room. Playwright Sharr White's wit is razor sharp, his insight deep, and his poetry spare. Nothing could be more epic.
Two years after his hit play, American Hwangap, Lloyd Suh is back with Jesus In India, a contemporary parable imagining a wild stretch in the lost years of Jesus Christ. Teenaged and wayward, Jesus of Nazareth journeys to the east with his friend, Abigail of Galilee, towards a spiritual haven full of Maharajas, music, and some really good weed. Daniella Topol directs this World Premiere.
The American Premiere of Any Given Day by leading Scottish playwright Linda McLean is two back-to-back plays. It's 2pm in the East Side of Glasgow: Bill and Sadie are preparing for the arrival of their favorite person. It's all going like clockwork until they discover they've forgotten the bread. It's 2pm in the West Side of Glasgow: two people are closing up the bar for the afternoon. A chance call opens up the opportunity for a future which they have stopped imagining. Playwright McLean explores the fleeting nature of love and happiness set against a backdrop of violence and disappointment. The director will be Jon Tracy.
Finally, from the critically acclaimed writer of Oedipus el Rey, Luis Alfaro, comes Bruja. Directed by Loretta Greco, this reimagining of Euripides' Medea is a contemporary story so haunting and sensual, it explodes one of the ancient myths most firmly embedded in our culture. A sizzling look at a sorceress scorned from the gritty, tersely poetic Alfaro, whose riveting modern barrio retelling of Sophocles' Oedipus burned up the stage at Magic in 2010.