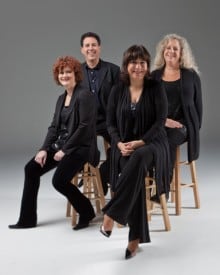 The Ives Quartet have announced "Illuminate," its 13th annual series of chamber music concerts.
Six performances of three main stage programs will begiven in Palo Alto and San Jose at intimate venues that foster a close connection betweenperformers and audience.
Three afternoon salon events will be presented at an historical home in Palo Alto.
The Ives Quartet comprises Bettina Mussumeli and Susan Freier, Violins; Jodi Levitz,Viola; and Stephen Harrison, Cello. The Quartet's musicians enjoy dual careers in the US and Europe, making Ives Quartet concerts an inviting combination of old-world sophistication and a uniquely pioneering American panache that audiences and criticsfind irresistible.
Internationally renowned pianist, Gwendolyn Mok rejoins IQ, bringing her 19th-c. Erardpiano, to play Brahms' Piano Quintet in F-sharp Minor, Op. 34 the way he may haveimagined it.
Guest artists Anna Kruger, viola, and Tanya Tomkins, cello, return this season toperform Tchaikovsky's dynamic, romantic String Sextet in D Minor, Op. 70,"Souvenir of Florence."
Featured composers include Brahms, Haydn, Schuloff, Mozart, Porter, Tchaikovsky,Debussy and a new work by Bay Area native Deborah Lurie created specially for IQ.