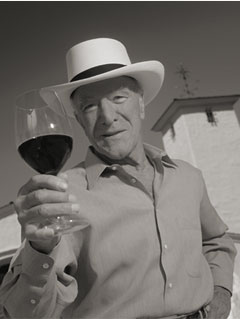 On Friday June 17, Robert Mondavi Winery will be celebrating Robert Mondavi's birthday with a live toast led by Margrit Mondavi to celebrate the late wine legend's contributions to wine. The event, hosted at the winery in Napa Valley, includes a special open house and global toast at the winery in Napa Valley.
In 2007, then California Governor Arnold Schwarzenegger inducted Mondavi into the Vintners Hall of Fame at the Culinary Institute of America. Widely regarded as one the most prominent faces in the industry, his pioneering vision placed California wines among the finest in the world and made them an integral part of a gracious lifestyle.
The Robert Mondavi Institute (RMI) for Wine and Food Science at the University of California, Davis opened October 2008 in his honor.
The occasion honors the vast contribution the late vintner made to the California wine industry. At 2 pm, the winery will join together for a global toast to Mr. Mondavi, streamed world-wide on the winery's Facebook page via livestream.
Food education
According to organizers, in honor of Robert Mondavi, with every new "LIKE" received on The Robert Mondavi Winery Facebook page during June 13th -17th, Robert Mondavi Winery will donate $1 (up to $10,000) to Days of Taste, a non-profit organization dedicated to educating children about the food we eat. Days of Taste is the community action group of the American Institute of Wine & Food, which was founded by Julia Child and Robert Mondavi.
Robert Mondavi's autobiography, Harvests of Joy, was published in 1998.