Guest post by Bob Jamison.
Symphony Silicon Valley has done it again and impressed the crowds to two standing ovations with pianist Jon Nakamatsu, pianist clarinetist Jon Manasse at the fifth performance of the 2010-2011 season with Nakamatsu Plays Two playing through May 15th presented at the wonderful historic California Theatre in downtown San Jose.
Opening the evening with a classic Pulcinella Concert Suite by Igor Stravinsky, conductor Leslie B. Dunner lead the symphony off to a wonderful beginning.
However, the 2nd set by Paquita D'Rivera's Cape Code Concerto for Clarinet, Piano and Orchestra really took the crowd by awe as Composer D'Rivera came to life himself from the very seat beside me and started playing the claves (a classic creole Cuban instrument of two small wooden dowels) from the audience with Jon Manasse to a solo clarinet piece called Lecuonerias.
The middle set by Paco D'Rivera was written specifically for Manasse and Nakamatsu and orchestrates a vibrant and playful mix of jazz and latin sounds from D'Rivera's home country of Cuba. Having been too many symphonies over the years, Jon Manasse gave the most impressive clarinet performance I have ever seen. Should you have another opportunity to catch Manasse in action it's not to be missed. The Cape Code Concerto was written by D'Rivera specifically for Manasse and Nakamatsu to showcase their fabulous instruments. We were very lucky to have Composer Paquito D'Rivera's presence beside us as the symphony put on a glorious performance.
After a standing ovation Nakamatsu and Manasse returned to the stage to treat the audience with a duo performance of a popular Gershwin piece with the famous chorus of "Who can ask for anything more?"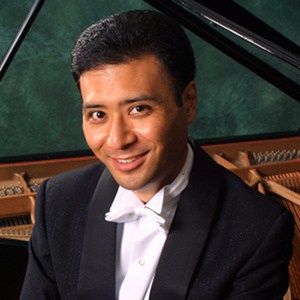 If Manasse and Nakamatsu together haven't impressed you by the end of the 2nd set then surely Nakamatsu will take the cake with his spectacular piano performance in Concerto No 1 in B-flat by Tchaikovksy. Nakamatsu's fingers move so fast up and down the keyboard it's hard to believe those beautiful sounds are coming from him. Without missing a stroke he exhausts the crowd with Tchaikovsky's Allego Con Fuoco and then after the second standing ovation of the night presents an encore performance further showcasing his talents.
After two standing ovations and impressive performances by Manasse and Nakamatsu I can't wait for the next performance of Spices, Bandoneon, & Italy set for June 4 and 5 at the magnificent California. This historical theater is ornate, classy, and charming. It's truly a delightful theater and if you're lucky maybe you'll see Jerry Nagano playing the organ in the beautiful lobby before the performance.
Overall we were impressed by the Symphony Silicon Valley and can't wait to see for future performances. Even though Manasse and Nakamatsu were the stars tonight their performance would not have been as impressive without our local and talented symphony.
If you have an appreciation for fine music as I do, or if you want to promote musical education across Santa Clara County schools then be sure to vote for Arts Education Funds by CHASE Community Giving program. Your vote could help provide funding for 100,000 Silicon Valley children to receive free musical education for 3rd through 6th graders. Your vote is free and will only take a minute. So far this year our local votes already guaranteed a $25,000 grant for our symphony and the next competition could garner $500,000 to further promote musical education. Help make a difference in our schools: click here to vote on Facebook from May 19-25.
Nakamatsu Plays Two

Symphony Silicon Valley
California Theatre, San Jose

3.5 out of 5 stars

Conductor: Leslie B. Dunner

Solists:
Jon Nakamatsu, piano
Jon Manasse, clarinet

Program:
Igor Stravinsky Pulcinella Suite
Paquito D'Rivera Cape Cod Concerto for Clarinet, Piano & Orchestra — World Premiere
Piotr Tchaikovsky Piano Concerto No. 1

Thursday 7:30 pm May 12, 2011
Saturday 8:00 pm May 14, 2011
Sunday 2:30 pm May 15, 2011