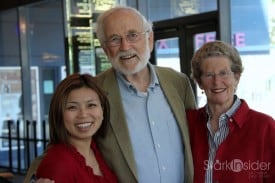 Yesterday I had the opportunity to meet Phil and Susan Hammer. Many know that the San Jose Rep's theater was named in their honor. Also, Susan Hammer was a popular former mayor of San Jose (1991-1999). Fortunately I was able to interview this wonderful couple as part of a special project we're working on.
Just a quick update to say it was a thrill. This dynamic duo has had tremendous impact on the region, and also on theater and the arts. It's always an inspiring occasion to meet people so committed to the cause.
I told Phil that we were sandwiching him in red as seen in this photo of us. I'm not sure if that was why he was laughing, or if it's because they just watched Kung Fu Panda 2 in 3-D down the street at Camera Cinemas.
Local history buffs will know that the new theater opened in 1997 (after the San Jose Rep performed at the Montgomery for 17 years following its founding by James P. Reber in 1980), but was not named until 2008.
According to the Silicon Valley Business Journal, it was "just months after being elected mayor of San Jose, Susan Hammer announced that the city and San Jose Redevelopment Agency would make it a priority to build the theater a home of its own."