The Tony Award-winning San Francisco Mime Troupe opens its 52nd season with 2012 – The Musical! Wilma Bonet (Posibilidad, Too Big To Fail) directs Lizzie Calogero (Red State, Too Big To Fail), Keiko Shimosato Carreiro (GodFellas, Doing Good, Veronique of the Mounties), Michael Gene Sullivan (Posibilidad, Too Big to Fail, GodFellas), and Victor Toman (Making A Killing, GodFellas, 1600 Transylvania Ave), along with Cory Censoprano and Siobhan Marie Doherty, who make their San Francisco Mime Troupe debuts in this lively satire about corporate funding and the art of mass distraction.
A small political theater company, Theater BAM!, finds itself at a crossroads: should they keep telling the stories they feel can change the world (and starve while telling them), or feed at the corporate trough, sell out, and be the mouthpiece for The Man? Tough decision. So when they are offered a commission from a "green" corporation that could save BAM!, the company is very tempted. All they have to do is create a new show: "2012 – The Musical!" But is it political? Will it keep with the company's original mission? And who's really bankrolling the production?
For BAM!'s Artistic Director Elaine Marlowe there is no question: all theater is political, and corporate money poisons politics. Unfortunately for her, not all of Theater BAM! agrees, including her sister, ex-artist turned hotshot investment banker, Suze. Doing pro-bono work for BAM!, Suze sees that the only way to survive in a corporate world is to take advantage of it.
Meanwhile, downtown, Suze's investment banker boss Arthur Rand has his own problems. Government regulation of investment banking is stifling his profits and power. What's the point of unlimited campaign contributions if you still have to rely on politicians who work for "the people?" So when Suze innocently suggests that a wholly-owned politician is legally a possibility, Rand gets a brilliant idea …
What is Rand's plan to convince people to vote for an openly corporate candidate? Can Theater BAM! survive without corporate money, or should they stifle their ideals in the name of reality and live to fight another day? Is it possible to sell out just a "little bit"? And what the heck is "2012 – The Musical!" anyway?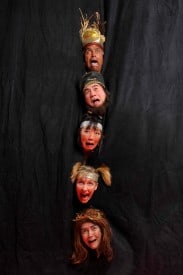 Wilma Bonet returns to San Francisco Mime Troupe to direct 2012 – THE MUSICAL! An actress and Mime Troupe Collective member in the early 1980's, Bonet directed last season's hit production Posibilidad and the Troupe's 50th anniversary production Too Big To Fail.
San Francisco Mime Troupe composer, lyricist, and musician Pat Moran has worked with the Mime Troupe since 2005's production of Doing Good.
Composer and lyricist Bruce Barthol was resident composer/lyricist with the San Francisco Mime Troupe from 1976 to 2007, with over 35 productions to his credit
Playwright Michael Gene Sullivan joined the San Francisco Mime Troupe in 1988. In 1992, he became a Contributing Writer, and Resident Playwright in 2000. His scripts include Red State (2008 nominee, Best Original Script, San Francisco Bay Area Theater Critic's Circle), and Too Big To Fail (2009 nominee, Best Original Script, San Francisco Bay Area Theater Critic's Circle). Sullivan is also a blogger for the political website The Huffington Post.
2012 – The Musical!

July 2 through September 25

Throughout the Bay Area in San Francisco, the North Bay, East Bay, Peninsula, Santa Cruz, and Southern California.

Written by Michael Gene Sullivan, with additional dialogue by Ellen Callas.

Featuring a live band under the direction of Pat Moran, and music and lyrics by Bruce Barthol.

All shows are free and open to the public (unless otherwise noted).
SCHEDULE:

Preview performance: Saturday, June 18, San Geronimo Valley Community Center

6350 Sir Francis Drake Boulevard, San Geronimo, 3:30 music, 4pm show

SAN FRANCISCO:

Saturday, July 2, Dolores Park, 1:30 music, 2pm show

Sunday, July 3, Dolores Park, 1:30 music, 2pm show

Monday, July 4, Dolores Park, 1:30 music, 2pm show- OPENING DAY

Saturday, August 6, Peacock Meadow, Golden Gate Park, 1:30 music, 2pm show

Sunday, August 7, Glen Park, 1:30 music, 2pm show

Saturday, August 20, Washington Square Park, 1:30 music, 2pm show

Sunday, August 21, Yerba Buena Gardens, 1:30 music, 2pm show

Saturday, September 3, Dolores Park, 1:30 music, 2pm show

Sunday, September 4 Dolores Park, 1:30 music, 2pm show

Monday, September 5, Dolores Park, 1:30 music, 2pm show (ASL interpreter on site)

EAST BAY:

Saturday, July 9, Cedar Rose Park, Berkeley, 1:30pm music, 2pm show

Sunday, July 10, Cedar Rose Park, Berkeley, 1:30pm music, 2pm show

Saturday, July 23, Mosswood Park, Oakland, 1:30pm music, 2pm show

Wednesday, August 3, Lakeside Park, Oakland, 6:30pm music, 7pm show

Thursday, August 4, Lakeside Park, Oakland, 6:30pm music, 7pm show

Saturday, August 13, Live Oak Park, Berkeley, 1:30pm music, 2pm show

Sunday, August 14, Live Oak Park, Berkeley, 1:30pm music, 2pm show (ASL interpreter on site)

Thursday, August 25, Montclair Ball Field, Montclair, 6:30pm music, 7pm show

Saturday, September 17, Willard Park, Berkeley, 1:30pm music, 2pm show

Sunday, September 18, Willard Park, Berkeley, 1:30pm music, 2pm show

Wednesday, September 21, Chabot College Performing Arts Center, Hayward, 6:30pm music, 7pm show

RICHMOND:

Sunday, July 24, Nicholl Park, 1:30pm music, 2pm show

NEVADA CITY:

Thursday, September 8, Nevada Theatre, 7pm music, 7:30pm show, for tickets visit www.brownpapertickets.com

Friday, September 9, Nevada Theatre, 7pm music, 7:30pm show, for tickets visit www.brownpapertickets.com

DAVIS:

Saturday, September 10, Community Park, 6:30pm music, 7pm show

SACRAMENTO:

Sunday, September 11, Southside Park, 4:30 music, 5pm show

NORTH BAY:

Wednesday, August 24, Veterans Memorial Park, Napa, 6:30pm music, 7pm show

Wednesday, August 31, Mill Valley Community Center (back lawn), Mill Valley, 6:30 music, 7pm show

Monday, September 19, Sebastiani Theatre Sonoma, 7:00 music, 7:30pm show, for tickets call

707-996-9756

POINT ARENA:

Thursday, July 28, Arena Theater, 7:30pm music, 8pm show

REDWAY:

Saturday, July 30, Mateel Community Center, 7:30pm music, 8pm show

UKIAH:

Friday, September 23, Todd Grove Park, 6:30pm music, 7pm show

PETALUMA:

Sunday, September 25, Petaluma Progressive Festival, Walnut Park, 2:30pm music, 3pm show

PALO ALTO:

Thursday, September 1, Mitchell Park (South Field), 6:30pm music, 7pm show

REDWOOD CITY:

Wednesday, September 14, Redwood City Courthouse Square, 6:30pm music, 7pm show

SANTA CRUZ:

Saturday, August 27, San Lorenzo Park, 2:30pm music, 3pm show

Sunday, August 28, San Lorenzo Park, 2:30pm music, 3pm show