Fort Mason Center in San Francisco is host to many wine and foodie events throughout the year. However, last Sunday it was the destination for one of the grandest events of the year: Star Chefs & Vintners Gala, the flagship fund-raising gala for Meals on Wheels of San Francisco.
Over 85 premiere chefs and restaurants came together for the this 24th annual event to create delectable and imaginative hors d'oeuvres for the reception, followed by a three course meal during the live auction. The grand finale? An extravagant finish with a head-spinning array of desserts and dancing.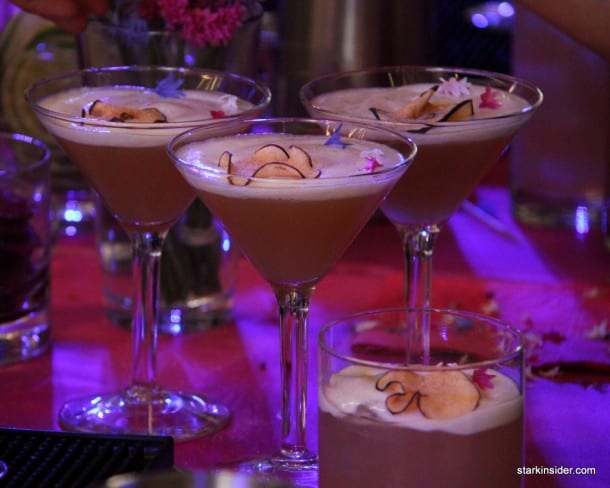 Of course, what would fabulous food be without great wines? Over 70 California Vintners also participated ensuring a stellar selection of wines were available and the over 900 guests at this sold out event were sufficiently merry for the silent and live auctions. A memorable pairing for me was Chef Matthew Accarrino's Farmstead Chicken, Wild Green Strudel, Fava, Radish ad Taggiasca Olive paired with a 2007 Goldeneye Anderson Valley Pinot Noir.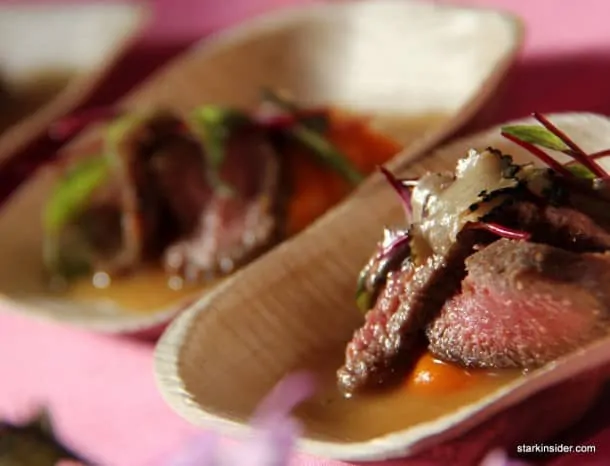 During the reception, I had the opportunity to speak to several of the chefs about what inspired their dishes and why they participate in the annual event. Many of the dishes were inspired by their mothers or grandmothers. For example, Chef Lissa Doumani noted her creation, Lebanese Tuna Mezze, Tuna Tataki with Tabouleh and Sumac and Grilled Tuna with Tahini and Pinenuts was influenced by her Lebanese heritage and mother. Chef Chris Consentino also noted his quenelles during the reception were in part motivated by memories of his grandmother.
It seemed that just as much as the food and wine during the evening gala was inspiring, it was heartwarmingly surpassed by everyone's recognition that at the end of the day, this event was for Meals on Wheels (MOWSF) and all that it has done for the San Francisco community since 1970. For more on Meals on Wheels check out this behind the scenes profile: Meals on Wheels of San Francisco – An Inside Look.
The mission and accomplishments of MOWSF were especially on people's minds and hearts during the live auction which resulted in very generous bids.
This included two winning bids at $22,000 for a Star Chef Dinner created by Melissa Perello of Frances which was nominated in 2010 for Best New Restaurant and $16,000 for dinner for eight at RN74 with rare wines. All winning bids were significantly above the value assigned which demonstrated the incredible support the community has for Meals on Wheels and also the impact that the non-profit has had on the community.
What really struck home for me when I toured Meals on Wheels with Executive Director Ashley McCumber was that the organization not only serves 18,000 home-delivered meals per week, but also for many seniors, the volunteers are also ensure seniors are not left in isolation — that at least periodically there is someone checking in on them and making sure they are okay.
Just as much as Star Chefs and Vintners Gala provided much culinary inspiration, it was without a doubt as the evening concluded that the work Meals on Wheels and its volunteers do have inspired the San Francisco community.
In Photos: Star Chefs and Vintners Gala, San Francisco