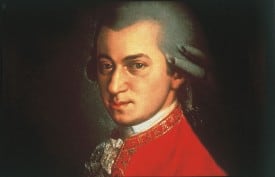 Artistic Director George Cleve has announced the 2011 program for the 37th Anniversary Season of the Midsummer Mozart Festival, a San Francisco Bay Area icon and North America's only all-Mozart festival. Maestro Cleve will lead the Festival Orchestra in eight Bay Area concerts, July 14-17 and July 21-24, 2011.
The Midsummer Mozart Festival was founded in 1974 by Maestro George Cleve and a regional consortium of classical musicians, who recognized him as one of the world's great interpreters of the music of Wolfgang Amadeus Mozart.
Midsummer Mozart is the only music festival in North America dedicated exclusively to Mozart.
Under the baton of Maestro Cleve, the Festival presents a critically-acclaimed summer concert season featuring renowned international soloists as well as distinguished local artists, with a dedication to fresh and intelligent interpretation of the work of this most enduring and universally loved composer.
The mission of Midsummer Mozart embraces both performances of the highest artistic excellence and the cultivation of new audiences, including young people, to assure the future appreciation of great music and the arts.
Midsummer Mozart Festival – 37th anniversary season

Program I – July 14-17

Overture to Idomeneo
Piano Concerto No. 26 in D major K.537 (Coronation), K. 537
Soloist: Jon Nakamatsu
"Ch'io mi scordi di te" for soprano with piano obligato
Symphony No.36 in C major, (Linz), K.425

JULY 14 8:00PM – California Theatre, San Jose
JULY 15 8:00PM – First Congregational Church, Berkeley
JULY 16 6:30PM – Gundlach Bundschu Winery, Sonoma (outdoors)
JULY 17 3:00PM – Herbst Theatre, San Francisco

Program II – July 21–24

Divertimento in D major, K.131
Clarinet Concerto, Soloist: Mark Brandenburg
Tenor Aria from Idomeneo
Symphony No. 39 in E flat, K. 543

JULY 21 8:00PM – California Theatre, San Jose
JULY 22 8:00PM – First Congregational Church, Berkeley
JULY 23 6:30PM – Gundlach Bundschu Winery, Sonoma (outdoors)
JULY 24 3:00PM – Herbst Theatre, San Francisco