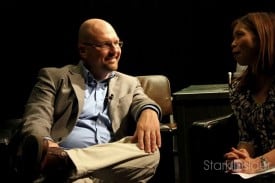 Some great news this morning out of the San Francisco theater scene. Cutting Ball Theater announced that the company has been awarded a grant for $150,000 from the Barbro Osher Pro Suecia Foundation to produce all five of playwright August Strindberg's Chamber Plays, in new translations by Paul Walsh, in a festival entitled Strindberg Cycle: The Chamber Plays in Rep.
According to organizers, the festival will debut in October of 2012 with full productions of all five plays running in repertory through November 2012; during the festival, audiences will have the opportunity to see the plays performed separately, as well as in a "Chamber Play Marathon" of all five shows in one day.
The Chamber Plays are Ghost Sonata, The Pelican, Storm, Burned House, and The Black Glove; this will be the first time all five of Strindberg's Chamber Plays will be performed together in repertory in any language. Cutting Ball will also celebrate the centennial of Strindberg's death and the playwright's vast career throughout 2012 with additional readings of his works, symposiums, and lectures.
Since 2005, Cutting Ball Theater has featured one reading of Strindberg's Chamber Plays, in new translations by Paul Walsh, each year as part of its Hidden Classics Reading Series; two of the translations, Burned House and Storm, were commissioned by Cutting Ball. These readings have been preparing Cutting Ball's artists as well as audiences for the company's 2012 presentation of the Strindberg Cycle: The Chamber Plays in Rep.
"We are so grateful to the Barbro Osher Pro Suecia Foundation for making this dream a reality," says Cutting Ball Artistic Director Rob Melrose. "This will be an opportunity for Cutting Ball to do what will be by far our biggest project to date and will allow us to be an important part of the worldwide celebration of Strindberg's centennial. The Chamber Plays encapsulate the themes and techniques Strindberg mastered over his lifetime: ghosts, being haunted by one's past, the subjectivity of perception, and the thorny relations between men and women. The Chamber Plays' experimental bent coupled with their compact size make them perfect for Cutting Ball's space at the EXIT on Taylor theater."
Rob Melrose on Stark Insider TV
A pioneer of naturalism, expressionism, and the theater of dreams, August Strindberg (1849 –1912) was one of the world's most important playwrights and his influence can still be felt today. Tennessee Williams, Eugene O'Neill, Edward Albee, Ingmar Bergman, and Strindberg's contemporary Henrik Ibsen all cite him as an important influence on their work. Strindberg was a novelist, poet, painter, linguist, and scientist. Near the end of his life, he moved back to his native Sweden and became involved with a small theater in Stockholm called the Intiman (or "intimate") Theater, for which he wrote five plays, each under 90 minutes. He called them Chamber Plays, signaling that these works would be more compact than the "symphonic" plays he wrote earlier in his career, and noted an affinity he had with chamber music by composers like Beethoven and Chopin. Stridberg wrote more than 70 plays, novels, short stories, and studies of Swedish history, and is arguably one of Scandinavia's most influential authors. He is widely known as one of the fathers of modern theater.
Translator Paul Walsh, director and Cutting Ball Artistic Director Rob Melrose, and actor and Cutting Ball Associate Artistic Director Paige Rogers dreamt about bringing this project to fruition for years, as all three are Strindberg aficionados. Melrose did his thesis at the Yale School of Drama on Strindberg's last play The Great Highway, and directed the play, which, at the time, had only been produced once in the U.S. Walsh completed his doctoral dissertation on the early plays of Strindberg at the University of Toronto on "August Strindberg and Dramatic Realism, 1872-1886." Rogers did her Princeton University senior thesis on Strindberg's Miss Julie, performing the title role in a production that she also directed.