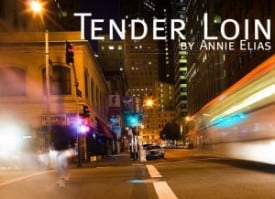 San Francisco's Cutting Ball Theater has announced the lineup for its 12th season. The ambitious season opens in October with Maurice Maeterlinck's Pelleas and Melisande in a new translation by Cutting Ball Artistic Director Rob Melrose, who will also direct.
The company is also poised to present the World Premiere of Eugenie Chan's evocative take on an ancient Estonian folk tale, Tontlawland, directed by Paige Rogers and Annie Paladino, in February.
Documentary theater veteran Annie Elias presents the World Premiere of her latest work for the stage, Tenderloin, in April; Elias will also direct. Risk is This… The Cutting Ball New Experimental Plays Festival returns to round out the season in June with two new works for the stage and five Risk Translations of August Strindberg's Chamber Plays in new translations by Paul Walsh; the staged readings of Walsh's translations are in preparation for Cutting Ball's main stage production of Strindberg Cycle: The Chamber Plays in Rep in Fall of 2012.
In addition to the main stage season, Cutting Ball Theater continues its Hidden Classics Reading Series with six new installments.
"I couldn't be more enthusiastic about our upcoming season," said Cutting Ball Artistic Director Rob Melrose.
"My new translation of Pelléas et Mélisande will feature original music by Cliff Caruthers, choreography by Laura Arrington, and the theater will be transformed into one giant video installation for the production. Directors Paige Rogers and Annie Paladino and choreographer Laura Arrington have been working with our resident playwright Eugenie Chan and a company of actor/singer/dancers on an ensemble-based theater piece called Tontlawald, inspired by their work with the acclaimed Polish theater company Teatr ZAR. Documentary theater-maker Annie Elias moves us from the realm of fantasy to reality, working with a company of actors on a piece about the people and places of the Tenderloin, a play about Cutting Ball's neighborhood that I am thrilled to have commissioned."
He added, "This will indeed be a very full and a very exciting season!"
We concur! Let the show begin…
Stark Insider TV – Cutting Ball Theater Artistic Director Rob Melrose
The Cutting Ball Theater 2011-12 Season

PELLEAS AND MELISANDE

By Maurice Maeterlinck
in a new translation by Rob Melrose
Directed by Rob Melrose
Original music by Cliff Caruthers
Choreography by Laura Arrington
October 21 – November 27, 2011
Press opening: October 27
Gala opening: October 28

Cutting Ball Theater opens its 12th season with Maeterlinck's seminal avant-garde play PELLEAS AND MELISANDE, in a new translation by Cutting Ball Artistic Director Rob Melrose (previous translations include The Bald Soprano by Eugène Ionesco, Woyzeck by Georg Büchner, No Exit by Jean-Paul Sartre, Ubu Roi by Alfred Jarry, and Maeterlinck's The Blind). In this mysterious fairytale of a play, which inspired musical works by Claude Debussy, Arnold Schoenberg, Gabriel Faure, and Jean Sibelius, a beautiful young woman is found in the woods by a hunter who also happens to be a prince. He takes her to his castle and marries her, but the honeymoon ends when she falls in love with his younger brother. When the love triangle explodes, she wants to return to her own world, but can she? Melrose directs this nine-person production, featuring a musical score by composer Cliff Caruthers and choreography by Laura Arrington.

TONTLAWALD (World Premiere, Cutting Ball Commission)

By Eugenie Chan
Directed by Paige Rogers and Annie Paladino
Choreography by Laura Arrington
February 17 – March 11, 2012
Press opening: February 23
Gala opening: February 24

Cutting Ball Theater continues its 12th season with the World Premiere of TONTLAWALD. This original ensemble-based piece weaves evocative a capella harmonies and visceral movement into a multilayered retelling of an ancient Estonian tale. Part concert, part dance, part fairytale, and inspired by the work of Poland's famed Teatr ZAR, TONTLAWALD follows a mistreated girl who flees her tormentors and unexpectedly finds a safe home in the mysterious, forbidden Tontlawald – the ghost forest. Written by Cutting Ball's resident playwright Eugenie Chan and directed by Associate Artistic Director Paige Rogers and Annie Paladino, with choreography by Laura Arrington, TONTLAWALD was workshopped during Cutting Ball's 2011 Risk is This…festival.

TENDERLOIN (World Premiere, Cutting Ball Commission)

Written by Annie Elias with Tristan Cunningham, Siobhan Doherty, Rebecca Frank, Michael Kelly, Leigh Shaw, David Sinaiko, and David Westley Skillman

Directed by Annie Elias
April 27 – May 27, 2012
Press opening: May 3
Gala opening: May 4

Annie Elias brings her years of experience in documentary theater to Cutting Ball with the World Premiere of TENDERLOIN, an unforgettable piece about the people and places in Cutting Ball Theater's neighborhood. Using transcripts of interviews conducted by Elias and her group of actors, TENDERLOIN strives not only to bring Cutting Ball fully into its community, but literally brings the neighborhood into the theater. Seven actors portray the subjects they interview, creating living portraits from which a portrait of the Tenderloin itself emerges. A powerful and confirming experience, TENDERLOIN honors the essence of the Tenderloin through the stories of the everyday people that make up this historic downtown San Francisco district.

RISK IS THIS…THE CUTTING BALL NEW EXPERIMENTAL PLAYS FESTIVAL

June 8 – July 14, 2012

Risk is This…The Cutting Ball New Experimental Plays Festival is one of the only play festivals in America solely dedicated to experimental works for the stage. This year's festival features two new works and five new translations in staged readings that push the boundaries of what theater can be.

anomienaulis
By Christopher Chen
June 8 – 9, 2012

anomienaulis is Christopher Chen's bold post-modern take on Euripides' Iphigenia in Aulis. In this harrowing portrait of heart-wrenching choices, Agamemnon and his armies are set to sail for Troy, but are unable to depart due to a strange lack of wind. This is no mere meteorological abnormality, but rather the will of the gods. In order for the winds to blow again, Agamemnon must sacrifice his only daughter Iphigenia, or condemn his entire army, and nation, to defeat.

GIZMO

By Anthony Clarvoe
June 15 – 16, 2012

In GIZMO, playwright Anthony Clarvoe (Show and Tell, Pick Up Ax) wrestles with the topic of technology today. This new play was inspired by Karel Čapek's play R.U.R. (or Rossum's Universal Robots); considered the first science fiction play, it was written in 1921 and introduced the world to the word "robot."

Risk Translations

Workshops of August Strindberg's Chamber Plays in new translations by Paul Walsh

THE GHOST SONATA

June 29 – 30, 2012

THE GHOST SONATA tells the story of a strange encounter between a student and an old man and begins the morning after a terrible fire. A "ghost supper" ensues in a round room, secrets are shared, plots are foiled, illusions are shattered, and the true haunting nature of things is revealed. The most well known of Strindberg's Chamber Plays, THE GHOST SONATA will serve as the centerpiece of Cutting Ball's upcoming Strindberg Cycle: The Chamber Plays in Rep.

THE PELICAN and THE BLACK GLOVE
July 6 – 7, 2012

Based on the belief that a Pelican sheds its own blood to feed its young, THE PELICAN presents a family where the exact opposite is true. The widow Elise plots with her lover to steal her children's inheritance while they starve in their own home. When the children discover the truth, the revelation sparks a small revolution.

In THE BLACK GLOVE, it is the day before Christmas Eve in a five-story apartment building. An old man and a caretaker find a black glove in the entryway, precipitating a strange chain of events involving a young wife, two maids, two fairies, a missing ring, and child.

STORM and BURNED HOUSE

July 13 – 14, 2012

In STORM, an elderly gentleman near the end of his life lives peacefully in a building neighbors call "the quiet house." His peace is shattered, however, when the new neighbors upstairs, the young wife and child he left so many years ago, and her new husband, plan to turn their home into a private casino. Years of jealousy and resentment rise to the surface as he tries to help his former wife out of a bind and finds that the ghosts of his past still haunt him.

In BURNED HOUSE, Arvid arrives in his hometown of Stockholm after decades of living in the United States only to find that his childhood home burned down the night before. While detectives search through the rubble for clues about the cause of the fire, Arvid sifts through the ashes to uncover the dark secrets hidden by his family and the town. As more secrets are revealed, Arvid finds the tools he needs to exact revenge on his brother for crimes committed long, long ago.

Hidden Classics Reading Series

This season, Cutting Ball's Hidden Classics Reading Series explores and celebrates the work of August Strindberg. The series offers a profound look at one of the greatest authors ever to write for the stage in a program that continues to be one of San Francisco's best-kept secrets.

PLAY STRINDBERG

By Friedrich Dürrenmatt
November 6, 2011, 1pm

Cutting Ball opens the Hidden Classics Reading Series with PLAY STRINDBERG, Friedrich Dürrenmatt's adaptation of August Strindberg's The Dance of Death. This searing portrait of marriage, a tight, gripping three-person play, finds a man and a woman who can not live without each other but without the help of their mutual friend might wind up killing each other.

CAMINO REAL

By Tennessee Williams
December 4, 2011, 1pm

CAMINO REAL is Tennessee Williams' dream play that borrows heavily from Strindberg's A Dream Play and The Great Highway. Peopled with characters from literature and pop culture, including Casanova, Camille, Don Quixote, and Kilroy, CAMINO REAL, one of William's most imaginative and touching plays, takes place in a bizarre afterworld where the royal road of the unconscious empties out onto a real road littered with life's misfits.

Strindberg Centennial:

MISS JULIE and A DREAM PLAY

By August Strindberg
"Two Radical Visions of Theater"
January 29, 2012, 3pm (Swedish dinner between shows)

Cutting Ball begins the 2012 celebration of Strindberg's centennial with two plays that encapsulate Strindberg's two major contributions to drama: realism and expressionism. In MISS JULIE, Strindberg examines class tensions through a sexual encounter between an unmarried young lady and her father's valet. In A DREAM PLAY, Indra's daughter comes down to earth to better understand the plight of man. Through this surreal journey, she meets an officer, a lawyer, and a poet. Strindberg structured the play using a dream logic that was later adopted by Expressionist playwrights.

There will be a traditional Swedish dinner served between the two readings, as well as a discussion of these two vastly different visions of theater.

EASTER

By August Strindberg
"Strindberg and Painting"
April 8, 2012, 1pm

Thought by many to be Strindberg's most successful marrying of his realistic and expressionistic styles, EASTER tells the story of a family on the brink of bankruptcy who finds salvation in the daughter, newly arrived from an asylum, who speaks from beyond this world.

This reading will be followed by a discussion of the play and Strindberg's career as a painter.

THE STRONGER, PARIAH, and SIMOON

By August Strindberg
"Strindberg and the Occult"
May 6, 2012, 1pm

These three one-act plays show the power of Strindberg's invention. In THE STRONGER, two women sit at a table. One speaks and the other never says a word. The subject in question is the fidelity of the talkative woman's husband. Which of the two women is the stronger? PARIAH tells the story of two men and their fight over gold. In SIMOON, a soldier is bewitched by a mysterious woman from the desert.

The readings will be followed by a discussion of the plays and Strindberg's relationship to the occult.

THE KEYS TO HEAVEN

By August Strindberg
"Strindberg and Expressionism"
May 20, 2012, 1pm

In THE KEYS TO HEAVEN, the death of a man's three children from the plague causes him to go on a surreal journey to the afterworld. His travels take him to the ruins of the tower of Babel, Jacob's Ladder, and the Gate of Heaven. Along the way, he meets Romeo and Juliet, Tom Thumb, Don Quixote, Bluebeard, Hamlet, and Ophelia. One of Strindberg's most peculiar plays, THE KEYS TO HEAVEN was never performed during his lifetime.

This reading will be followed by a discussion of the play and Strindberg's influence on expressionism.

Co-founded in 1999 by theater artists Rob Melrose and Paige Rogers, Cutting Ball Theater presents avant-garde works of the past, present, and future by re-envisioning classics, exploring seminal avant-garde texts, and developing new experimental plays. Cutting Ball Theater has partnered with Playwrights Foundation, the Magic Theatre, and Z Space New Plays Initiative to commission new experimental works. The company has produced a number of World Premieres, West Coast Premieres, and re-imagined various classics. Voted "Best Theater Company" in the 2010 San Francisco Bay Guardian Best of The Bay issue, Cutting Ball Theater also earned the Best of SF award in 2006 from SF Weekly, was selected by San Francisco Magazine as Best Classic Theater in 2007, and received the 2008 San Francisco Bay Guardian Goldie award for outstanding talent in the performing arts. Cutting Ball Theater was featured in the February 2010 issue of American Theatre Magazine, and the company's production of Marcus Gardley's …and Jesus Moonwalks the Mississippi won three Bay Area Theater Critics Circle awards for 2010.