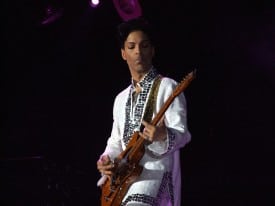 Prince, one of the most dynamic and prolific live performers of our time, is coming to San Jose next week. The Welcome 2 America Live tour stops by HP Pavilion for two performances, May 19 and 21. Tickets go on sale today.
The shows range in length – with some in excess of three hours – and are filled with a constant stream of hits from Prince's enormous chart topping repertoire and according to some reports a plethora of surprises that have left fans "screaming, singing, dancing and euphorically wanting more." Even at 52, Prince can still do that to people.
An artistic force that continues to affect music and pop culture like no other, Prince has welcomed fans into his brilliant and enigmatic musical world with sold out performances at arenas, performing in the round on a uniquely crafted "glyph" symbol stage, creating an unforgettable view for everyone in the house to experience his genius as a live performer and artist.
Rolling Stone has ranked Prince #28 on its list of the 100 Greatest Artists of All Time. He has won seven Grammy awards (and was inducted into the hall of fame December 2010), and even an academy award (Purple Rain).
He has been a staunch supporter of independent radio, but  not of digital music downloads. In an interview with the Daily Mirror, Prince said, "The Internet's completely over. I don't see why I should give my new music to iTunes or anyone else. They won't pay me an advance for it and then they get angry when they can't get it… Anyway, all these computers and digital gadgets are no good. They just fill your head with numbers and that can't be good for you."
Prince is currently in the midst of "21 Nite" stand in Los Angeles with 15 dates announced thus far.