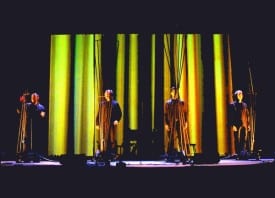 Kronos Quartet reunites with long–time collaborator Wu Man June 3 and 4 at Yerba Buena Center for the Arts (YBCA) to present two important works from their repertoire: A Chinese Home and Ghost Opera. A Chinese Home was conceived by pipa virtuoso Wu Man, Kronos' Artistic Director David Harrington and acclaimed stage and film director Chen Shi–Zheng (The Peony Pavilion, Dark Matter, The Bonesetter's Daughter). The work is inspired by the extraordinary story of Yin Yu Tang, a 300–year–old house from a southwestern Chinese village that was dismantled piece–by–piece at the turn of the millennium and rebuilt at the Peabody Essex Museum in Salem, Massachusetts. Drawing on Yin Yu Tang's metaphors of displacement and migration, rebirth and rebuilding, the work is a musical and dramatic construction in its own right, exploring China's evolving identity through contributions by multiple composers, enhanced with live staging and video elements by Chen Shi–Zheng.
The program also includes Tan Dun's Ghost Opera. Since its west coast premiere at YBCA in 1995, the work has been performed around the world in venues such as Carnegie Hall, Amsterdam's Concertgebouw and the Beijing Concert Hall. Tan describes the work as a reflection on human spirituality, which is too–often buried in the bombardment of urban culture and the rapid advances of technology.
"Kronos is thrilled to be in a three-year partnership with Yerba Buena Center for the Arts. There has never been a time in the last 37 years when I have felt as energized, as passionate and as committed to the music of the future as I do right now," said David Harrington, artistic director, Kronos Quartet. "We are inspired by the Center's programs and artistic vision, and we feel a great synergy in our mutual commitment to the creation and performance of new work. We are excited by the opportunity to deepen our relationship with YBCA and its audiences. Kronos has always loved performing at YBCA, and we look forward to planning very special programs and performances in our home town."
A Chinese Home is part of Kronos' multi-year partnership with YBCA which began in October 2010 with a program featuring the San Francisco premiere of Kronos' new staged version of George Crumb's Black Angels, as well as a world premiere by Sahba Aminikia and works by Ingram Marshall, Bob Ostertag and Aleksandra Vrebalov.
YBCA is Kronos' exclusive San Francisco home for concerts and experimentation for three seasons, and together they are co-producing performances and co-commissioning at least three new works during the residency.
David Harrington (Kronos Quartet) Interview on Wu Man & A Chinese Home @ YBCA
"The Kronos Quartet is one of the world's leading string quartets, pushing the boundaries of contemporary music and constantly reinventing themselves through their explorations with artistic partners," said Kenneth Foster, YBCA's executive director. "YBCA is thrilled to celebrate this venture with the Kronos Quartet — an organization that shares our vision and commitment to innovation — which is sure to delight music fans with new works and experimentations for several years to come."
YBCA is located in San Francisco's Yerba Buena cultural district, is one of the nation's leading multidisciplinary contemporary arts centers.