Place your bets. It's time for the final Jeopardy answer.
The clue is, "A slightly stuffy, European city known as a leader in banking, watch making, and expensive chocolate."
And your question is, "What is Zurich?" (annoying buzzer sounds)
"WRONG!"
OK, maybe in the past you would have won the big bucks, but if you'd been there recently,  you would have known that it mostly doesn't hold true any longer.
Although they still make some mighty tasty chocolates, Zurich is now home to one of the hippest, coolest, designery nabes in Europe. The once-stodgy Swiss image has been shattered forever with the successful revitalization of Zurich West aka Kreis 4, easily accessible by a new tram line.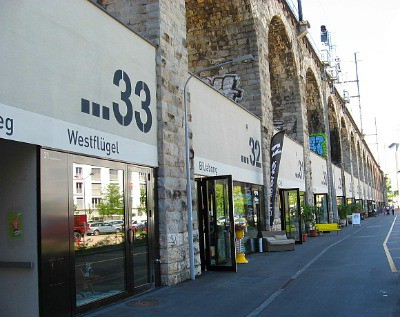 The former site of dilapidated shipyards, empty factories and warehouses, has been converted into a vibrant living/work district filled with cutting-edge boutiques, pulsating clubs, theaters, artist studios, trendy eateries, and some highly coveted (albeit pricey) residential lofts. The most recent rehab magically transformed the former railway viaduct into Zurich's first covered food market, sided by about 50 eclectic boutiques which nestle under the old stone arches.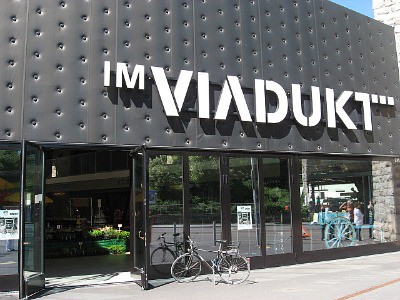 The Im Viadukt farmers market (open 6 days a week) has dozens of stalls providing quality one-stop shopping of local butcher, bakers and just about everything else edible-makers, as well as a fantastic looking restaurant which utilizes the market's fresh ingredients.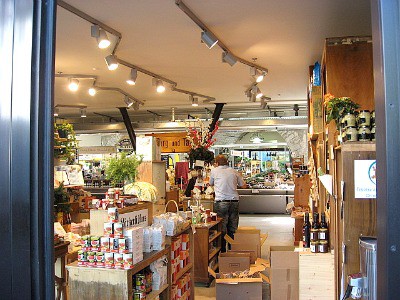 As for the best shopping under the arches (which run the length of 5 1/2 football fields) there really wasn't a clunker in the batch. A few standouts include the uber-cool bags made from newspapers over 30 years old at Zeithalle and almost any of the accessories at Komplementair, all beautifully displayed on vintage pieces, inspire lust.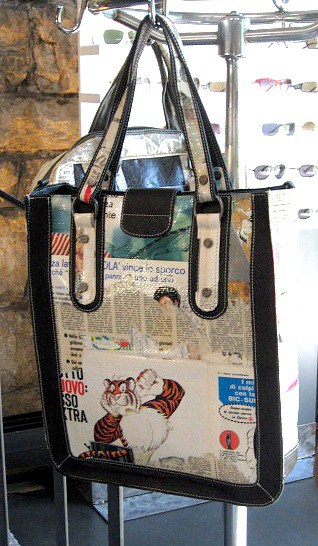 But my fave shop was a few blocks away, Walter Vintage Möbel & Accessoires, which had just opened a couple of weeks ago. Every perfect one-of-a-kind piece housed in this industrial space, had a riveting back-story, like the old wooden couch on wheels from India. (The owners travel the world looking for just the right treasures.) All I know, if I scored one of the million dollars lofts, this is where I'd come to get it furnished.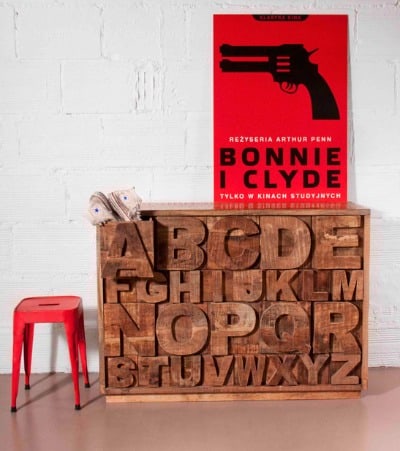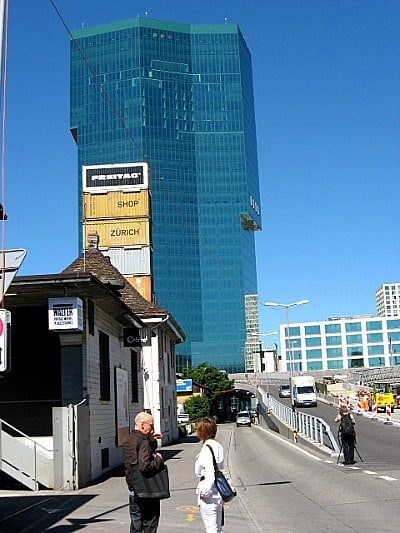 The refurbished old rubs shoulders compatibly with the sophisticated new. Next to Walter's is the Freitag Store, the epitome of hipdom, fashioned from a stack of old shipping containers, from which they sell millions of their iconic messenger bags made out of  recycled truck tarps. Looming behind this trendsetter is a brand new landmark, the Prime Tower, built on the grounds of a former cogwheel factory –and now the tallest building in Switzerland, which would make an excellent Jeopardy question.