Gentlemen start your engines! — It might be the 100th anniversary of the Indianapolis 500 but it is also the Eleventh Annual Antique Autos in History Park. Mark your calendars for Sunday, September 11, noon to 5 PM.
The Eleventh Annual Antique Autos in History Park event will fill History Park at Kelley Park in San José with a trip through days past — hear the 'putt, putt'of an antique car engine, while strolling through the idyllic park setting.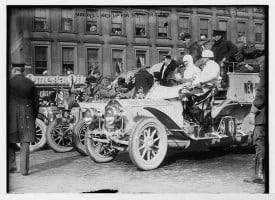 On deck: more than 200 antique autos, fire equipment, bicycles and motorcycles of all makes from 1900 to 1945.
"Antique Autos in History Park is much more than an antique car show,"said Allan Greenberg, coordinator of the event.  "This is an event that combines the best of entertainment and education in the appropriate setting of History Park."
Also located on the grounds of History Park will be the Early Day Gas Engine and Tractor Association to provide more 'putt, putt, putt' engine sounds reminiscent of days gone by.
"History Park comes alive during the Antique Autos event," said Alida Bray, President and CEO of History San José. "It is a wonderful time to experience history in today's busy world."
Donovan's Dixie Demons will provide Dixie-land music from 1 p.m. to 3 p.m. Luke Rizzuto will give a slide presentation of his 2008 reenactment of the 1908 Great Race.
Portraits of the Past members stroll through the 14-acre site in 1900s costumes. Other activities include free trolley rides. Arts and crafts demonstrations and antique collectibles will be on display. Family and children's activities will be provided.
This year, Antique Autos at History Park will feature vintage speedsters and racecars with a presentation on racecars, in recognition of the 100th anniversary of the Indianapolis 500.
Also at History Park at Kelley Park, 1650 Senter Road between Keyes and Phelan, docents will guide visitors through many of the 27 historic buildings. The exhibit "Nature's Beloved Son: Rediscovering John Muir's Botanical Legacy" will be on display in the Pacific Hotel Gallery. The Leonard and David McKay Gallery will feature "Celebrating Local Artists" in honor of the gallery's fifth anniversary.
Antiques Autos at History Park

Sunday, September 11, noon to 5 PM.

Admission is free and sponsored by the Santa Clara Valley Model T Club.

Parking is $6.

For more information about the event contact Allan Greenberg at allang@pacbell.net or call 408 997 0879.