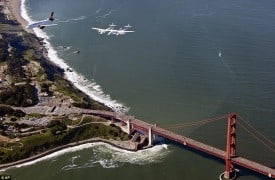 Now, that is how you unveil a new terminal. A rocket-powered spaceship owned by Virgin's Richard Branson will go down in the history books as the first arrival at the redeveloped $388 million SFO Terminal 2 (T2). Opening April 14, Virgin America will occupy seven gates, American Airlines six gates.
Befitting the ceremony which included dramatic fly-bys of the new Virgin Airbus A320 and Branson's SpaceShipTwo, the world's first commercial passenger spaceship, the terminal will also be home to Virgin Galactic, the world's first commercial spaceline. Yes, that's a lot of firsts.
"This terminal is beautiful. It's one of the few terminals in America where you arrive and think it's going to be a great day," said Branson, one of the world's mostly flamboyant and adventurous billionaires.
The original terminal was built in 1954, but had remained dormant for the past ten years. Architect Art Gensler designed the revamped terminal with a goal of pairing passenger delight with energy and water efficiency.
"We immediately felt we walked into a five-star hotel lobby that was just declared LEED gold standard in its environmental design," said San Francisco Mayor Ed Lee.