This summer, San Jose Rep will bring back the laughs with its 2011 Summer Series featuring Reduced Shakespeare Company's The Complete World of Sports (abridged) and One-Man Star Wars written and performed by Charles Ross.
"It's wonderful to bring two uniquely funny productions to our audience," says Artistic Director Rick Lombardo. "You don't have to be a sports nut or a Star Wars fanatic to enjoy these great performances."
The Complete World of Sports (abridged)
Just in time for Father's Day comes The Complete World of Sports (abridged). Is bowling really a sport? What about poker or competitive eating? Who invented curling and synchronized swimming and why in the world are they in the Olympics? From the earliest cavemen playing "Neanderthal in the Middle" to your own kid's soccer practice, the lunacy of sports collides with quirky wit in a "tour-de-farce" of physical theatre.
Since its 1981 origins as a pass-the-hat act in California, the Reduced Shakespeare Company has created seven stage shows, two television specials, several TV pilots, and numerous radio pieces – all of which have been performed, seen, and heard the world over. The company's itinerary has included stops at the White House, the Kennedy Center, Lincoln Center, London's West End, Seattle Repertory Theatre, American Repertory Theatre, and Montreal's Just For Laughs Festival, as well as performances in Israel, Australia, New Zealand, Hong Kong, Japan, Malta, Belgium, The Netherlands, Singapore, and Bermuda – plus countless civic and university venues throughout the USA, Great Britain, and Ireland.
One-Man Star Wars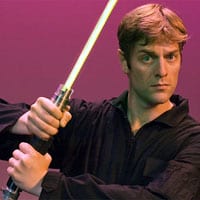 Three movies, one man, and a galaxy far, far away. Charles Ross takes us on a hilarious re-creation of the original Star Wars trilogy. Ross plays all the characters, recreates the effects, sings from John Williams' score, flies the ships, and fights both sides of the lightsaber battles. Complete with captivating facts and editorial asides, this one-of-a-kind theatrical tribute to this sci-fi classic is sure to make for a side-splitting evening.
Ross has performed One-Man Star Wars more than 1,200 times in more than 180 cities across four continents. From Off-Broadway in New York to London's West End, from Dubai's resorts to the Glastonbury Music Festival, in small towns, big cities, at fundraisers, and at Lucasfilm's own Star Wars™ conventions. This show has been places.
In limited engagements, 'The Complete World of Sports (abridged)' will run from June 14 to June 19. 'One-Man Star Wars™' runs from July 14 to July 17. Tickets are available for each show separately, or as a 2-pack deal – 10% off the complete order until May 31.

Tickets to both productions are available at the San Jose Rep Box Office at 101 Paseo de San Antonio or can be purchased online at www or by calling 408.367.7255. The 2-pack deal is only available in person or over the phone.