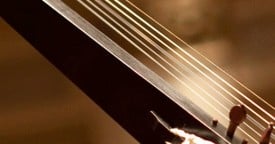 On Saturday, April 30, 2011 the San Francisco Conservatory of Music joins with the San Francisco Opera and the Consulates of Germany and the United Kingdom for a concert celebrating both the Opera's upcoming Ring cycle and BritWeek 2011.
Andrew Mogrelia will conduct the Conservatory Orchestra in orchestral excerpts from Richard Wagner's The Ring of the Niebelungs and Sir Edward Elgar's Enigma Variations. This will be the final concert of the orchestra's 2010-11 season, and a fitting musical introduction to both the Ring, which opens June 14 at the War Memorial Opera House, and BritWeek, which starts April 29 with local celebrations of the Royal Wedding.
The San Francisco Opera's 2011 production of the four-opera cycle of Wagner's The Ring of the Niebelungs has generated world-wide excitement, not only for the musical forces involved, but for the stage concept as well. This is an American Ring, merging Wagner's timeless saga of the lust for power, the lure of gold, the sacred beauty of nature and the destructive impulses of man with significant events in American history. Director Francesca Zambello's production, staged for the first time in its entirety, will be conducted by Donald Runnicles, former music director of the San Francisco Opera and one of the world's leading interpreters of Wagner.
Britweek, which runs through May 12, is an annual event in San Francisco and Los Angeles highlighting the many British links with California, including art and design, literature, music, film and television, technology, business, sport, food and fashion. This year's program features an exhibition of an original Magna Carta, the thirteenth-century document that has had such profound influence on political evolution in both Britain and the United States, as well as a children's classic book program and essay competition, designed to promote literacy by introducing thousands of underprivileged children to the joy of reading British classics, from Alice's Adventures in Wonderland to Peter Pan and from The Chronicles of Narnia to Harry Potter.
Music director of the Conservatory Orchestra, Andrew Mogrelia has conducted many of Europe's leading orchestras, including the Philharmonia, Royal Philharmonic, BBC Symphony, BBC Scottish Symphony, Residentie Orchestra, Dutch Radio Symphony, Slovak Radio Symphony and Slovak Philharmonic. Former music director of the San Francisco Ballet, Mogrelia is principal guest conductor of Australia's Queensland Ballet and has worked extensively with ballet companies around the world. He has a broad discography for the Naxos and Marco Polo labels. His recording of Rodolphe Kreutzer's Violin Concertos Nos. 17-19 with violinist Axel Strauss and the Conservatory Orchestra was released in October 2010 on Naxos, to wide acclaim.
Conservatory Orchestra

Andrew Mogrelia, conductor

Saturday, April 30, 8 p.m.
Caroline H, Hume Concert Hall
San Francisco Conservatory of Music
50 Oak Street, San Francisco

Richard Wagner:
Das Rheingold – Entry of the Gods into Valhalla
Götterdämmerung – Siegfried's Rhine Journey
Götterdämmerung – Siegfried's Funeral March
Sir Edward Elgar:
Variations on an Original Theme, Op.36 "Enigma"

More information: www.sfcm.edu