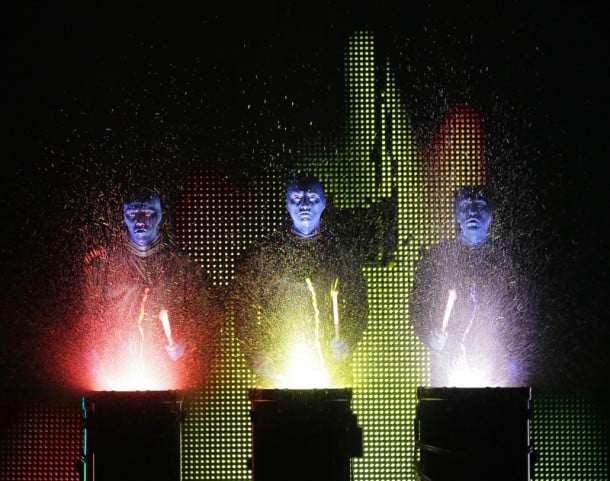 Blue Man Group is coming to the Golden Gate Theatre as part of the SHN 2010-2011 Season. Blue Man Group is best known for their wildly popular theatrical shows and concerts which combine comedy, music, and technology to produce a totally unique form of entertainment.
Although it is impossible to describe, people of all ages agree that Blue Man Group is an intensely exciting and wildly outrageous show that leaves the entire audience in a blissful, euphoric state. With no spoken language, Blue Man Group is perfect for people of all ages, languages, and cultures.
Although Blue Man Group has toured previously with its Megastar arena rock show, this marks the first theatrical production to tour North America. The theatrical tour features classic Blue Man moments as well as brand new content.
Blue Man Group on tour also features a new physical design centering around a proscenium-sized LED curtain and high-resolution screen creating an entirely new visual experience for Broadway houses across the nation.
The critically acclaimed Blue Man Group creates experiences that defy categorization. Blue Man Group is best known for multi-media performances that feature three bald and blue characters who take the audience on a journey that is funny, intelligent and visually stunning. A live band, whose haunting tribal rhythms help drive the show to its climax, accompanies the Blue Men.
Currently, Blue Man Group theatrical shows can be seen in New York, Boston, Chicago, Las Vegas, Orlando, Berlin, Stockholm, Vienna and Tokyo.
Audiences have multiple opportunities to discover Blue Man Group through the scope and variety of its creative projects, including:
Blue Man Group family-focused educational projects, including a touring Children's Museum exhibit, "Making Waves"
Blue Man Group's headlining performance on the new Norwegian Epic by Norwegian Cruise Line—the Official Cruise Line of Blue Man Group
An upcoming Blue Man Group IMAX film, "Blue Man Group: Mind Blast", which gives the Blue Man an entirely new environment to explore, slated to arrive in theatres in 2011