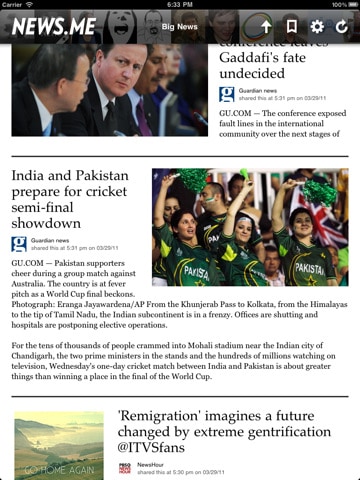 The news aggregation app space is really heating up. News.me, developed by bitly in collaboration, is now available for download on the Apple iTunes store.
While the app is free the premium content is not. To access that you'll need to pay for a subscription: one week for $0.99 or a year for $34.99.
News.me joins a growing list of news aggregators who cull multiple news sources and provide the information in a compelling manner for iPad users. By mashing-up social networking streams – notably Twitter and Facebook – this emerging class of apps provide a very personalized reading experience. You might even think of it as the tabletized version of Google News or even the old Yahoo home pages we used to (well, some of us anyways) personalize and browse over coffee.
Notable competitors include Pulse and Flipboard, who just raised $50 million in funding, proving that this new form of content consumption could very well represent the future of new media.
Despite being on iTunes for only a few hours, the early user reviews are quite positive, and the average score currently is 4+ (with approximately 30 ratings):
"Very unique product. Being able to read what other people are reading is quite interesting."

"I'll never get any work done again :)"
Not everyone is so happy to see the new app, and suggest that it's neither unique nor innovative.
Luke1robb wrote:

"How to build you very own News.me…

Step 1: Take Flipboard's idea/app and copy it
Step 2: Make it slightly worse and slightly less intuitive
Step 3: Add a novel, yet useless feature (i.e. Seeing what other people are reading — why not just follow the same people they follow?)
Step 4: Slap a $1/week or $35/year price on it
Step 5: Use the New York Times (the company that created it) to shamelessly promote it

Congrats! You've just made your very own News.me!"
To use the application, you need the app and a Twitter account.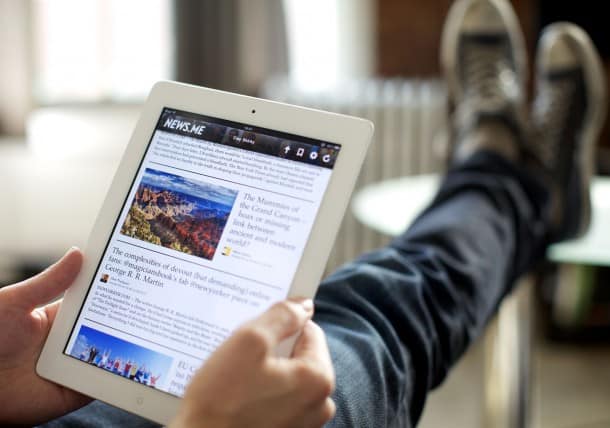 John Borthwick, the CEO of Betaworks, the company that helped developed the app, wrote an informative post on his blog describing the ins-and-outs about the new app. Here's how he describes News.me:
News.me is a personalized social news reading application for the Apple iPad. It's an app that lets you browse, discover and read articles that other people are seeing in their Twitter streams.   These streams are filtered and ranked using algorithms developed by the bitly team to extract a measure of social relevance from the billions of clicks and shares in the bitly data set. This is fundamentally a different kind of social news experience. I haven't seen or used anything quiet like it before. Rather than me reading what you tweet, I read the stream that you have selected to read — your inbound stream.  It's almost as if I'm leaning over your shoulder — reading what you read, or looking at your book shelves: it allows me to understand how the people I follow construct their world.
Current publishers that syndicate content via News.me include: The Atlanta Journal-Constitution, The Baltimore Sun, The Charlotte Observer, The Dallas Morning News, Detroit Free Press, Houston Chronicle, The Kansas City Star, Los Angeles Times, The Miami Herald, Star Tribune, Minneapolis, Philadelphia Daily News, The Philadelphia Inquirer, San Jose Mercury News, The News & Observer, The San Diego Union-Tribune, The Seattle Times, Chicago Tribune, McClatchy Washington Bureau, Boston Herald, Las Vegas Sun, Al Jazeera, Daily Mail, Evening Standard, and hundreds more…