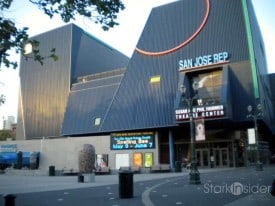 The age-old tradition of matchmaking takes a contemporary twist in San Jose Repertory Theatre's world premiere of Love in American Times, by Philip Kan Gotanda. Directed by San Jose Rep's Artistic Director Rick Lombardo, the production features actress Linda Park, who was raised in San Jose and is best known for her portrayal of communications officer Hoshi Sato in the television series Star Trek: Enterprise.
J. Michael Flynn is a well-known stage and television actor who also worked on the Star Trek franchise and has had successful appearances on San Jose Repertory Theatre's stage in Communicating Doors and A Flea in Her Ear.
The age-old tradition of matchmaking takes a contemporary twist when wealthy businessman Jack Heller has a pre-arranged meeting with sharp and accomplished Scarlett Mori-Yang. Sparks aren't the only things flying when these two driven individuals with intractable egos try to one-up each other on what could scarcely be called a "first date." With single-minded practicality and a pre-nuptial that looks more like articles of incorporation, it isn't long before dysfunctional chaos breaks out. Is there room for love when there's no shortage of money or power?
"It was a special joy to work with Philip on his play, and with this remarkable cast to bring these vivid and bold, contemporary characters to life for the first time on our stage," says Lombardo. "We are very grateful to the Edgerton Foundation for selecting this play to receive special funding which allowed us to develop and rehearse this play over a longer period of time – truly an important gift when bringing a new work to the stage."
Over the last two and a half decades, playwright Philip Kan Gotanda has been a major influence in the broadening of our definition of theater in America. In particular, Mr. Gotanda has been a leader in bringing the stories of Asian Americans to the nation's stages.
No stranger to San Jose Rep, Love in American Times marks Gotanda's third world premiere with the company. The Wind Cries Many was commissioned and performed by the company during their 2002-2003 season and Sisters Matsumoto was produced during the 1998-1999 season. One of the Bay Area's best-known playwrights, Gotanda is also a filmmaker.