Not only is this elegant Italian mansion situated on one of the Presidio's most prestigious blocks, it's also blessed with magical views of the Golden Gate Bridge, San Francisco Bay and beyond. Originally constructed in 1927 by Gottschalkand Rist (for a cool $2 mill–a whopping sum back in the day) they probably wouldn't recognize the place after a couple dozen talented Bay Area designers completely renovated and modernized the four floors of living space.
Kathleen Navarra's stunning living room (loved the huge portrait of Marchesa Balbi framed by fashiony "corseted" wall sconces) managed to hold its own, even though one could easily become memorized by the panoramic views.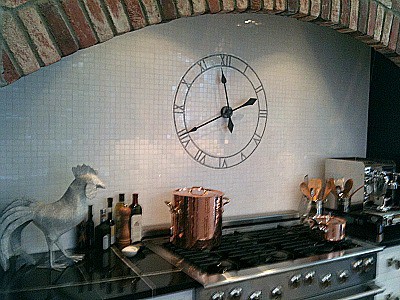 Tish Key's kitchen made wonderful use of the original brick archway over the oven, by inserting a cool roman numeral clock right into the white marble mosaic.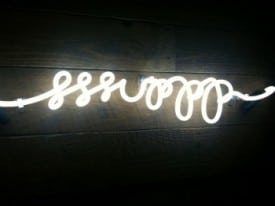 Wish I had room to duplicate the spirited Champagne Cellar, with a neon "sssippp" sign perched over the cozy pillowed bench, though I don't know if I would put it right next to Nanny's Suite!
Grab some girlfriends and make a date to view the showcase. It's open the whole month of May. For some extra fun sign up for one of the "Friday Evenings at Showcase" events – a month-long series of weekly events at the Showcase home.There's special Champagne happy hours, Chef tasting's, a color theory tour, etc.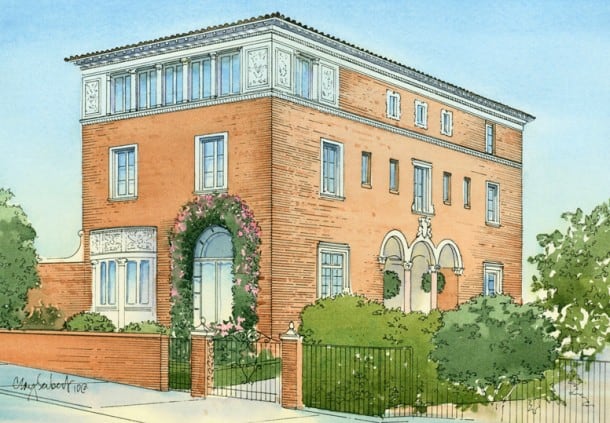 General Info
Map location of the 2011 Showcase House.
MapQuest
Proceeds to benefit the Financial Aid Program of San Francisco University High School
Showcase Statistics
Over $590,000 was raised by Showcase 2010
Over $11 million in student Financial Aid raised since 1977
Dates
April 30 through May 30, 2011
Hours
Tuesday, Wednesday, Saturday: 10:00 a.m. – 3:00 p.m. (last entry)
Thursday and Friday: 10:00 a.m. – 7:00 p.m. (last entry)
Sunday and Memorial Day: 11:00 a.m. – 4:00 p.m. (last entry)
Closed Monday (except Memorial Day)
Tickets
Available at the door
General Admission $30, Seniors $25 (60 and older)
Tickets are not available in advance
We accept payment by cash, check, VISA and MasterCard