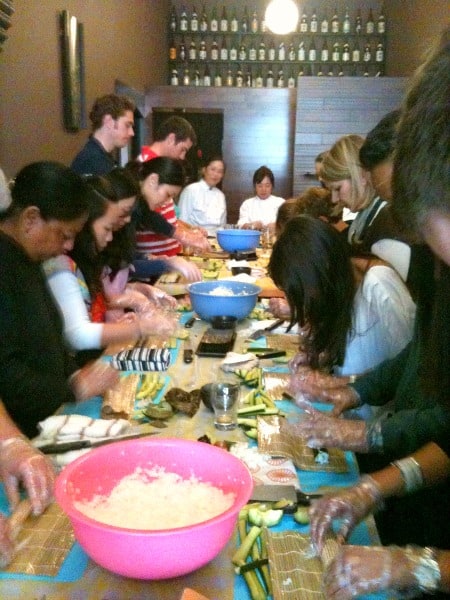 The final lesson in our sushi-making class at Nombe (a hip izakaya in the heart of the Mission) was when chef/co-owner, Mari Takahashi, tried to teach us to say "itadakimas" which is "Bon Appétit "in Japanese. After repeated attempts she took pity on us and said with a little giggle, "Pretend you are at Disneyland and say " eat a ducky mouse" and it will sound close enough."
Looks aside, my sushi tasted absolutely delish! For a fun-filled two hours, Mari taught about 20 of us some serious sushi-making skills. She first warned that in Japan it took years to become a full-fledged sushi master (who had probably spent a whole year just mopping up before he'd even be allowed to touch the rice-and then it would be just to wash it until the water ran clear).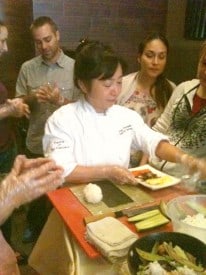 "In Japan, sushi chefs are very pale because they work inside for such long hours," Mari explained, as she gently tossed the rice in the sushi-oke, a gigantic wooden bowl used to soak up extra moisture from the rice. This is a very important step since the faster you dry the rice, the shinier it gets. She then showed us how to make hosomaki, futomaki, and uramaki , an inside-out roll, which she said, "was created in America because lots of people here think it's gross to see the black seaweed wrapper."
We went to our individual stations which had been set up with a sushi mat, knife, rice, avocado, cucumber, fish and other ingredients and got ready to rock and roll. Surprisingly, the deceivingly simple-looking nigiri (hand-formed sushi) were the hardest to make, while rolling a uramaki, was almost idiot-proof.
Before sitting down to enjoy the fruits of my labor, I asked Nombe partner /sake sommelier/and Mari's genial hubby, Gil Payne, if he would choose a nice sake for me from the 75+ premium sake that are currently on the menu. He selected a lovely, silken sake he calls "Bamboo Rain", (which is being private-labeled specially for Nombe) that paired beautifully with my misshapen hand-rolls.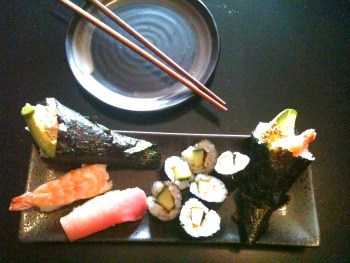 Luckily, I had brought a very large container for leftovers, which made an impressive dinner for two that night.
Nombe Restaurant also offers ongoing classes in traditional Japanese cooking as well as sushi classes.
Nombe Restaurant, San Francisco

The next Japanese cooking class is scheduled for Saturday, May 7th from 2:30 p.m. to 4:30 p.m. Cost of the class is $60 for singles and $100 a couple. Call to reserve your space. Nombe, 2491 Mission St. (at 21st St.); 415-681-7150 or nombesf.com.