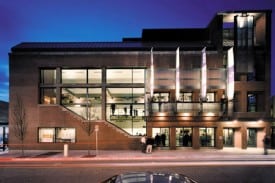 Last night, more than 360 people gathered to celebrate the neighborhood playhouse with the national reputation: theatre lovers, gourmands, and philanthropists stepped into the spotlight at Onstage, a theatrically delicious feast held on the 43rd birthday of the Tony Award-winning Berkeley Repertory Theatre.
Guests savored a sensational four-course meal prepared by the celebrated chefs at the Four Seasons San Francisco, which was paired with fine wine and exquisite entertainment. Daniel Handler, better known as beloved children's author Lemony Snicket, presided as master of ceremonies, serving up his usual droll wit mixed with plaudits for Berkeley Rep. Then legendary actress Rita Moreno sang selections from her upcoming show, Rita Moreno: Life without Makeup, which will make its world premiere at the Theatre this fall. The gala raised a record $587,000 for Berkeley Rep – including a large sum specifically for the Theatre's arts education and outreach efforts – and the evening left an unforgettable impression on all who were lucky enough to attend.
"Many people don't know that Berkeley Rep is a nonprofit, or that – despite our many hit shows – only half of our income comes from ticket sales," said Managing Director Susan Medak. "We depend on the generosity of our community to continue bringing world-class theatre to the Bay Area. This is how we support our deep investment in new play development and our ongoing commitment to arts education for children throughout the Bay Area. So we are grateful to the many donors who made this event a success, and particularly to Wells Fargo for its philanthropic support of the arts."
"If you've ever attended the theater," added Daniel Handler, "you know there are times that you would pay any sum of money whatsoever to get the people onstage to stop talking and go home. Tonight Berkeley Rep has perpetrated this on a grand scale."
The evening concluded with a live auction to support Berkeley Rep's education programs. Guests outbid one another to win collectable wines and gift certificates for elegant hotels, restaurants, and arts organizations throughout Northern California. The competition grew fierce when it came time to bid on a series of incredible adventures, such as a six-day vacation in London with tickets to the National Theatre and the Old Vic, a weeklong stay in Paris with a private condo for four people on the Left Bank, and a seven-day New Year's celebration for four at the Kuleana Club in Maui.
Former San Francisco Mayor Willie Brown was on hand and egged the crowd on when the auctioneer announced bidders could win an exclusive dinner with him and eight guests. Then Tony Taccone and Jonathan Moscone, the artistic directors of Berkeley Rep and California Shakespeare Theater respectively, came to the stage to offer their own treat: a meal at Taccone's house where eight guests could discuss Ghost Light, a show the two men are collaborating on about another former mayor, Moscone's late father George Moscone. Other treats included tours of AT&T Park with former Giant Ken Henderson and a seven-day stay in Manhattan including dinner with Tony Award-winner Michael Mayer, the director of American Idiot and Spring Awakening.
Photo credit: Timothy Hursley, courtesy of ELS.