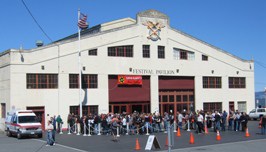 Rhone Rangers, a non-profit dedicated to promoting American Rhone varietal wines, is riding into town. Its annual Grand Tasting and discussion panels which feature American wines inspired by the famous French wine region will be held at Fort Mason in San Francisco later this month. The event offers a combination of seminars, presentations and wine tastings over the course of two days.
The Rhone Rangers dedicate themselves to the grapes whose ancestral home is in France's Rhone Valley.
The Rhône wine region in Southern France is situated in the Rhône river valley and produces numerous wines. The French government recognizes 22 varieties in the various appellations that comprise this large and diverse wine-growing region.
The Rhône is generally divided into two sub-regions with distinct vinicultural traditions, the Northern Rhône (referred to in French as Rhône septentrional) and the Southern Rhône (in French Rhône méridional). The northern sub-region produces red wines from the Syrah grape, sometimes blended with white wine grapes, and white wines from Viognier grapes. The southern sub-region produces an array of red, white and rosé wines, often blends of several grapes such as in Châteauneuf-du-Pape.
More Wine Coverage:

Stark Insider TV: Wine Country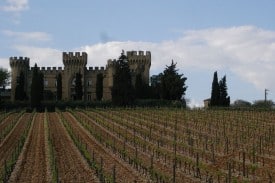 Rhone Appellations (including Cote Rotie, Hermitage, Condrieu, Chateuneuf du Pape, Gigondas, Bandol, Cotes du Rhone and several others) each choose a different subset from the collection of grapes known (from their place of origin) as Rhone varietals.
American Rhone-style wines are made from the same grapes that have flourished for centuries in France's Rhone River Valley, and their growing popularity in the United States speaks to their versatility with food, wide range of rich flavors, and to the skills of American winemakers.
The Rhone Rangers mission is to educate the public on Rhone varietal wine grapes grown in America and to promote the production and enjoyment of these wines, with emphasis on integration into our daily lives.
For a wine to qualify as a "Rhone Rangers" wine, the winery must be a member of the organization and 75% of the wine's content must include one or more of the twenty-two traditional Rhone grape varieties as approved by the French government for the wines of the Cotes du Rhone (including Petite Sirah/Durif).
Rhone Rangers San Francisco Grand Tasting

March 26-27

Fort Mason, San Francisco

RHONE RANGERS WEEKEND PASS

Spend a weekend with the Rhone Rangers. The weekend pass ticket, new for 2011, includes tickets to all three educational seminars with early VIP admission (with the trade) to the Grand Tasting on Sunday. And the $150 price is a $40 savings over the price of the individual tickets. Winemaker dinner not included. Limited availability. TICKETS: $150/each.

March 26, 2011, 1:00 – 2:15 PM. Seminar #1 – GREEN RANGERS: SUSTAINABLE, ORGANIC AND BIODYNAMIC AMERICAN RHONES.

Sustainability has recently become a buzzword in the world of wine, but it has been an essential part of the practices of many Rhone Rangers wineries for decades. Join us for a discussion among sustainable, organic and biodynamic producers, and taste wines from each as we explore how and why Rhone producers sit at the forefront of sustainability in American wine. Participating wineries include: AmByth Estate, Bonny Doon Vineyard, J. Lohr, Landmark, Montemaggiore, Qupe and Terre Rouge. TICKETS: $45/each.

Saturday, March 26, 2011, 2:45 PM – 4:00 PM. Seminar #2 – MOURVEDRE ON THE MOVE.

Dark, brooding, meaty, loamy, and agreeable, Mourvedre is a grape for Rhone fanatics. Long known for its ability to add structure and age-worthiness to blends, American Rhone producers are pushing Mourvedre to new heights both on its own and in its traditional blending role. Taste six different Mourvedre-based wines from up and down the west coast — both varietals and as leading roles in blends — and learn why Mourvedre is on the move! Participating wineries incllude: CORE, David Girard, Folin Cellars, Kenneth Volk, Quivira, Tablas Creek and Tercero. TICKETS: $45/each.

Saturday, March 26, 2011. 6:00 – 9:30 PM. RECEPTION, WALK-AROUND TASTING, DINNER WITH THE WINEMAKERS AND LIVE AUCTION.

Our Saturday events conclude with more than 15 top Rhone Ranger wineries participating in a tasting of current and library releases, dinner with the winemakers and live auction at Dogpatch Studios, 991 Tennessee St in San Francisco. Catering will be provided by Girl & the Fig (the well-loved Sonoma food purveyor and restaurant, famous for its Rhone-Alone wine list). Two menu options: Crispy Duck Confit or for Vegetarians: Spring Pea Ravioli with Asparagus and Wild Mushrooms (choose your option when you purchase your ticket). Participating wineries include: Bonny Doon, Caliza, Clos Saron, Folin Cellars, J. Lohr, Kukkula, Landmark, Quady North, Quivira, Qupe, Ridge, Rock Wren Wines, Stolpman,Tablas Creek, Tarara, Terre Rouge, Terry Hoage, Thacher and Waterbrook. Proceeds benefit the Rhone Rangers Scholarship Fund. Attendance limited to 200. Seating with any particular winemaker is not guaranteed; winemakers will offer their wines to each table, giving everyone a chance to taste any wine offered that evening. Advance tickets only; no tickets available at the door. TICKETS: $125/each.

Sunday, March 27, 2011, 11 AM – 12:30 PM. Seminar #3 – WILD WINES AND THE STORIES OF HOW THEY CAME TO BE.

Whether it's a 12% alcohol Syrah, a Viognier made with a month of skin contact, a Rhone blend made from grapes that European winemakers consider suitable only for blending, or a dessert wine made from air-dried Mourvedre, Rhone Rangers producers are pushing the envelope in a myriad of ways. Come taste these unusual wines from eight winemaking pioneers, as they share with you the inside stories on their wildest wines and how and why they headed off into uncharted territory. Participating wineries include: Big Basin Vineyards, Caliza, Clos Saron, Katin, Pax Mahle Wines, Stolpman, Tarara and Terry Hoage. Ticket includes VIP early admission (at 12 noon) to the Grand Tasting (along with invited members of the trade & media). TICKETS: $100/EACH.

Sunday, March 27, 2011 2:00 – 5:00 PM. 14th ANNUAL RHONE RANGERS GRAND TASTING.

The weekend culminates with the Grand Tasting, where over 2,000 people are expected to come taste over 500 wines from more than 100 Rhone Rangers wineries. For a list of participating wineries, click here. Sample gourmet foods from 25 or more specialty food purveyors, including cheese, bread, olive oil, charcuterie, fruits and other sweets and chocolates. A silent auction will feature Rhone Rangers wines and wine-related items; proceeds from the auction will benefit the Rhone Rangers Scholarship Fund. This event takes place at the Fort Mason Festival Pavilion. Come out for a great afternoon of wine, food and fun. TICKETS: $45/EACH.

Rhone Rangers – Member Wineries

10 Knots Cellars
122 Degrees West Winery
Adelaida Cellars
Alta Colina
AmByth Estate
Andrew Murray Vineyards
Anglim
Arnot-Roberts
Arrowood Vineyards & Winery
Arroyo Robles Winery
Aver Family Vineyards
Barrel 27 Wine Company
Beckmen Vineyards
Bella Vineyards and Wine Caves
Big Basin Vineyards
Bink Wines
Black Sheep Winery
Bogle Vineyards & Winery
Bonny Doon Vineyard
Calcareous Vineyard
Caliza Winery
Carina Cellars
Cass Winery
Chamisal Vineyards
Chateau Ste. Michelle
Chronic Cellars
Clautiere Vineyards
Clavo Cellars
Clayhouse Wines
Cliff Creek Cellars
Cline Cellars
Clos Saron
Coiled Wines
Columbia Crest
Columbia Winery
Concannon Vineyard
Core
Cosa Obra
Crushpad
Crystal Basin
Curtis Winery
Cypher Winery
D H Gustafson Family Vineyards
David Girard Vineyards
Delaplane Cellars
Derby Wine Estates
Dobbes Family Estate Winery
Domaine Berrien Cellars
Domaine Serene
Doyenne & DeLille Cellars
Eberle Winery Ltd.
Ecluse Wines
Edward Sellers Vineyards & Wines
Epiphany
Eric Kent Wine Cellars
Fess Parker Winery & Vineyards
Fleming Jenkins Vineyards & Winery
Folin Cellars
Frick Winery
Goedhart Family Winery
Guy Riedel Wines LLC
Hagafen Cellars
Hahn Family Wines
Halter Ranch Vineyard
Harrison Clarke
Henson Wines
Holly's Hill Vineyards
J C Cellars
J. Lohr Vineyards & Wines
Jada Vineyard & Winery
Jemrose
Justin Winery
Kaleidos
KATIN-JK Wine Co.
Kenneth Volk Vineyards
Koehler
L'Aventure Winery
Lagier Meredith Vineyard
Landmark Vineyards
Lange Twins Winery & Vineyards
Lawer Family Winery
Lone Madrone
MacLaren Wine Company
Maison Bleue Winery
Martinelli Winery
Meyer Family Cellars
Michael-David Vineyards
Michaud Vineyard
Minassian-Young Vineyards
Miner Family Winery
Miraflores Winery
Mitchella Vineyard & Winery
Montemaggiore
Morgan Winery
Niner Wine Estates
Novy Family Winery
Ortman Family Vineyards, LLC
Oso Libre Winery
Outpost Wines
Paradise Vineyard
Pear Valley Vineyard , Inc
Pomar Junction Vineyard & Winery
Pride Mountain Vineyards
Prospect 772 Wine Company
Proulx Wines
Quady North
Quivira Vineyards & Winery
Qupe
Renaissance Vineyard & Winery
Ridge Vineyards
Robert Hall Winery
Rocca Family Vineyards
Rock Wren Winery
Rosenblum Cellars
Saarloos and Sons
Sarah's Vineyard
Sawtooth Winery
Shane
Sierra Vista Winery
Skinner Vineyards
Skylark Wine Co.
Snoqualmie
Sol Rouge
Spangler Vineyards
Stage Left Cellars
Stark Wine
Steele Wines
Stolpman Vineyards
Stonehedge Winery
Summerwood Winery
Tablas Creek Vineyard
Tarara Winery
Tercero Wines
Terre Rouge
Terry Hoage Vineyards
Thacher Winery
Travieso Winery
Treana Winery
Truchard Vineyards
Unti Vineyards
Valley of the Moon Winery
Ventana Vineyards & Winery
Venteux Vineyards
Veritas Vineyard & Winery
Villa Creek Cellars
Vina Robles
Vines on the Marycrest
Waterbrook Winery
Wild Horse Winery
Wind Gap Wines
Wrath
Zaca Mesa Winery
Zenaida Cellars