"The Dumb Waiter" is the first of a twin bill of Harold Pinter one-acts presented by the highly regarded Off Broadway West Theatre Company. Despite the talented cast and uncommonly effective minimalist design elements, it's the less successful work.
Gus, as played by Conor Hamill, is the younger of a pair of hit men summoned by a faceless "organization" to await the arrival of their mark in a dark and dingy basement. The job is evidently routine, but for the first time Gus begins to express concern about his place within the overall plan.
His incessant questions test the patience of his older and more experienced cohort, Ben (Shane Fahy), who appears content to perform his designated role. Then, as an actual dumbwaiter is introduced, the play takes a somewhat surreal turn.
At this point we're obliged to suspend logic as the absurdity unfolds. Understandably, this could be a confounding exercise for the uninitiated. And if it were not for the compelling turns by Hamill and Fahy, it might very well be too much to ask. The denouement does ultimately make sense, but the pay off is not wholly satisfying.
On the other hand, "The Lover," the second of the two plays on the program is, in a word, magnifique!
Despite the appearance of conventionality, an attractive, middle-class couple decides to embrace an "open" lifestyle to preserve their ten-year marriage. They both seem content with their arrangement; until, of course, things start to unravel.
Pinter's examination of the games that people play suggests that one's emotions are not so easily compartmentalized. The complications begin when Richard, brilliantly portrayed with an impeccable Brit accent by Chad Stender, inquires about the details of his wife's romantic interludes with her "lover".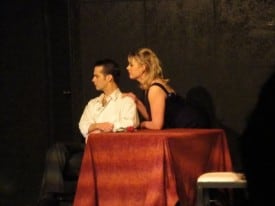 Sarah, performed to perfection by Nicole Helfer, greets her husband's curiosity with a deliberate candor that masks a well-nigh imperceptible reticence. The ensuing events could easily devolve into common melodrama, but Pinter throws us an ironic curve that's far more intriguing.
A set of riveting confrontations inevitably take place, showcasing some of the most outstanding acting I've seen on stage in quite a while. Featuring a marvelously controlled intensity, Stender's commitment and mastery of his craft is truly exemplary.
And Miss Helfer engages him with a passion equal in fervor and conviction. There isn't a false note in her performance as she fearlessly traverses a complex range of emotions with a sublime agility. Not since Ingrid Bergman have I witnessed a more expressive face. At the risk of sounding disingenuous, her ability to totally inhabit her character-in mind, body and soul-is a genuine revelation!
The production is aided immeasurably by an original score by Randy Freemire, clever lighting and set design, and tasteful costuming. A show of this caliber must not be denied the proper recognition, let alone a receptive audience. I cannot recommend your attendance at the Phoenix Theatre more highly!
(Please note my rating reflects a combined score. Standing alone, the second play would be five stars.)
Sex and Death: A night with Harold Pinter

4 out of 5 stars (combined score)

Off Broadway West Theatre Company
Phoenix Theatre, San Francisco

"The Dumb Waiter"
Directed by Durand Garcia
Featuring Conor Hamill and Shane Fahy

"The Lover"
Directed by Cecilia Palmtag
Featuring Nicole Helfer and Chad Stender