Guest post by Pat Reardon.
Fiddler on the Roof, the iconic musical about Tradition! has become an delightful tradition in and of itself. This timeless story of home, family and love continues to delight audiences everywhere. The Broadway San Jose production currently running does not disappoint.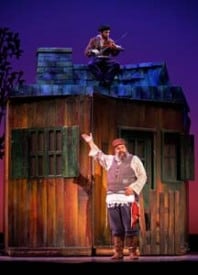 John Preese's gruff but lovable Tevye is played to perfection. With over 3,000 productions under his belt, his experience shows. His Pappa is a clever mix of exhaustion tinged with hope and a bit of realism to ground the performance. He is most charming in the scenes with his daughters as we watch his love for them guide him to discard the conventions of his upbringing one-by one.
Andrew Boza is perfectly cast as the nebbishy Motel, the unsuitable tailor who captures daughter Tzeitel's heart. Tall and gangly, Boza is convincing as the completely terrified suitor whose charming love for Tzeitel drives him to assert himself and assure their unconventional marriage.
The seasoned Birdie Newman Katz's Yente is perfectly tuned as the meddling matchmaker who inserts herself into everyone's business.  Nancy Evans' Golde easily convinces the audience that despite Tevye's feeble attempts to be the master of his household, Golde is the one ruling the roost.
The rest of the cast is a delightful accompaniment to the strong leads. The mobile set is cleverly designed to enhance but not detract from the production. Although the overall vocal performances could be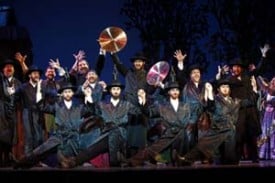 stronger, the staging and dancing are first-rate. No matter how many times one has seen this musical the Bottle Dance at the wedding never fails to delight.
It is a testament to the universality of the family of man that this endearing story, steeped in Jewish traditions from the shetls of Eastern Europe, is so meaningful to audiences everywhere.  In a multi-cultural area such as the Silicon Valley our many diverse cultures share and rejoice in Tevye's trials and triumphs.  In the end, this story is about the power of love, transformation and the inevitable bending by the older generation to give way to the younger. L'chaim!
Fiddler on the Roof

4 out of 5 stars
Where: Broadway San Jose
Directed by: Sammy Dallas Bayes
Book by: Joseph Stein
Music by: Jerry Bock
Lyrics by: Sheldon Harnick
Runs: March 15-20 2011
Photo credit: Carol Rosegg