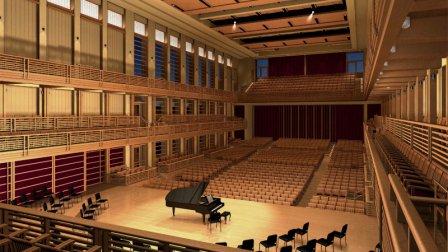 Sonoma State University announced today a $12 million gift for the Green Music Center from philanthropists Joan and Sanford I. "Sandy" Weill, enabling the University to complete the spectacular concert hall and adjoining lawn and commons performance venues. This is the largest single cash gift in the University's history and makes it possible to officially open the Joan and Sanford I. Weill Hall, Lawn, and Commons for the 2012-2013 Season with a grand opening celebration planned for fall 2012.
Robert Cole, a well-known arts presenter and conductor who led UC Berkeley's Cal Performances for 23 years, has been appointed artistic consultant and will work with Jeff Langley, Artistic Director of the Green Music Center and Director of Sonoma State University's School of Performing Arts, to lead programming for the Center focusing on the finest international performing artists in a broad range of disciplines. The Santa Rosa Symphony will be the Center's Orchestra-in-Residence. A handful of world class artists have already commented on the Hall's exceptional sound during private visits to sample the acoustics including Lang Lang, Fred Hersch, Ruth Ann Swenson, Chanticleer, and Lee Konitz.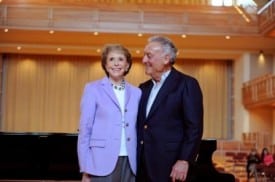 Designed by architect William Rawn, working closely with acoustician Lawrence Kirkegaard, the 1,400 seat Joan and Sanford I. Weill Hall is modeled after Seiji Ozawa Hall at Tanglewood and was designed to replicate the intimacy and acoustics of Vienna's Musikverein and Symphony Hall in Boston. In addition to the concert hall, the Weill's generous gift will support the completion of two additional performance venues. The south end of the Joan and Sanford I. Weill Hall is designed with a back wall that can be fully opened onto a beautifully landscaped and terraced lawn, similar to Ozawa Hall at Tanglewood, expanding the reach of the concert hall to an additional 3,000 guests. The Weill Commons, an area directly to the east of the main concert hall, will be transformed into an amphitheater with a 10,000 seat capacity for large-scale outdoor events. The $12 million gift includes a $4 million one-to-one challenge grant to encourage broad community engagement and will complete the spectacular outdoor performance areas.
"We care deeply about the communities we live and work in," said Joan and Sandy Weill. "When we first toured the Green Music Center we were immediately inspired by the beauty, the acoustics, and the wonderful potential for this spectacular arts venue. We were impressed by what the University and the community has been able to accomplish through tenacity and determination and we are honored to join Donald and Maureen Green and the many other generous contributors who have stepped forward to help make this dream a reality. There is no question that it has been a labor of love. We are passionate about education, music, and the arts and we are firm believers that they can help bridge cultural divides that exist throughout the world. For us, philanthropy is much more than just writing a check. It is donating our time, energy, and knowledge to the causes we are passionate about. The Green Music Center could be a transformative project not just for the campus but for the entire Northern California community and we look forward with great anticipation to the exciting future of this world class destination."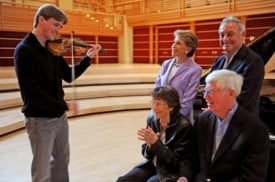 Located on the picturesque Sonoma State University campus in the heart of California's Sonoma wine region, the Green Music Center is the focal point for music in the region and home to the University's music department. The initial concept for the Center began with Donald and Maureen Green's dream to establish a choral recital hall on campus and expanded into a world-class arts center after Sonoma State University President Ruben Armiñana, his wife Marne Olson, and Donald and Maureen Green visited Tanglewood in the early 1990s. These four love classical music and education, and saw the University as a future home for a music venue unmatched by any on the West Coast and beyond. They were impressed by Ozawa's acoustical perfection and intrigued by its design and they set out to closely replicate it on the Sonoma State campus.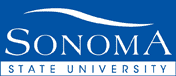 "Where else but Sonoma County could the weather be more perfect, the scenery more striking, the local food and wine finer and more celebrated," said President Ruben Armiñana. "We hoped the community would embrace this project and it has. Donald and Maureen's leadership has been exceptional and I am very pleased that we now have a full opening planned and that, very soon, this majestic new facility will be available to all. I want to thank Joan and Sandy Weill, two of the country's most generous philanthropists, for their gift. With the raising of the $4 million match from the community, we will be able to open the hall and experience the world's finest performing artists," said President Armiñana. The Joan and Sanford I. Weill Hall, Lawn, and Commons will join an already completed state-of-the-art music education building, faculty offices, and an elegant restaurant and excecutive retreat center. When finally complete the Green Music Center will also include the 250 seat "Schroeder's Recital Hall," named by Jean Schulz, wife of the late cartoonist Charles Schulz.
Joan and Sandy Weill have been committed for many years to education, healthcare, the arts, and other social causes not only through their philanthropy but through their volunteer leadership. Mr. Weill has been chair of the board of trustees of Carnegie Hall since 1991 and serves as founder and chair of the National Academy Foundation, a career-themed high school education organization he started in 1982. Mr. Weill is chairman of the board of overseers for The Joan and Sanford I. Weill Medical College and Graduate School of Medical Sciences at Cornell University, having joined the board in 1982 and becoming chair in 1995. Weill Cornell established the first American medical school overseas in Doha, Qatar, in 2001 and also has an academic affiliation with Methodist Hospital in Houston, Texas. In addition to these three organizations in which Mr. Weill serves as chair he is also: chairman emeritus of Citigroup; trustee emeritus of Cornell University; trustee of New York Presbyterian Hospital; overseer of Memorial Sloan-Kettering Cancer Center; board member of Sidra, a specialty teaching hospital for women and children that will be completed in 2012 in Qatar; board member of the Lang Lang International Music Foundation; trustee of the Gerald R. Ford Foundation; and board member of Koç Holding, headquartered in Turkey.
For the past ten years Joan Weill has served as chair of the board of the Alvin Ailey American Dance Foundation. Under Mrs. Weill's leadership, Alvin Ailey has earned a reputation as one of the most acclaimed international ambassadors of American culture. The Joan Weill School of Dance at Alvin Ailey, completed in 2005, is the nation's largest facility dedicated to dance. Mrs. Weill is also co-chair of the advisory committee of the Weill Music Institute at Carnegie Hall; co-chair of the New York Presbyterian/Weill Cornell Medical Center's Women's Health Symposium; honorary board member and president emeritus of Citymeals-On-Wheels; and past chair of the board of trustees for Paul Smith's College of the Adirondacks.
Mr. and Mrs. Weill are recipients of the 2009 Carnegie Medal of Philanthropy Award in recognition of their philanthropic efforts. Mr. and Mrs. Weill have been married for 55 years and have 2 children and 4 grandchildren.