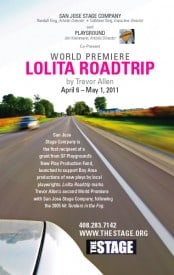 San Jose Stage Company, in conjunction with Playground-San Francisco, will present a world premier by playwright Trevor Allen, 'Lolita Roadtrip,' opening April 6.
Three years ago Playground-San Francisco, a Bay Area playwright incubator, commissioned Trevor Allen's "Lolita Roadtrip." The idea for the play is based upon Vladimir Nabakov's 1941 journey from New York to California to take a teaching position at Stanford. He traveled with his wife, Vera, and son, Dmitri. Nabokov identified a previously unknown subspecies of Lepidoptera in the Grand Canyon during this journey. It is told through the eyes of a young woman named Julia, who recreates the trip in a modern story.
San Jose Stage Company is the first recipient of a grant from the PlayGround's New Play Production Fund, launched to support Bay Area productions. Originally commissioned and developed by PlayGround Artistic Director, Jim Kleinmann of San Francisco, "Lolita Roadtrip" is a world premiere at the San Jose Stage Company in downtown San Jose.
As Randall King, Artistic Director of San Jose Stage told Chad Jones of theaterdogs.net, producing new works is "prohibitive and puts a nonprofit in potential peril at the box office….Money doesn't talk. It swears! PlayGround removed that profanity from the Stage Company budget, and their support of the local playwright gives a buffer to relieve that financial pressure. The $15,000 grant is a tremendous amount of production budget for a theatre our size, and it will be used to great effect."
The cast of "Lolita Roadtrip" includes bay area veteran actor Julian Lopez-Morillas*, as well as Stacy Ross*, Chloe Rronzan* and Patrick Alparone*.
Lead character Julia (Chloe Bronzan), a rebellious Stanford graduate student researching her theses, and Danny (Patrick Alparone), a hitch-hiking teenaged runaway she picks up, retrace the steps of Vladimir Nabokov's actual 1941 roadtrip from New York to Stanford. This darkly comic play follows their cross-country adventures, while they confront their own dark pasts.
"Lolita Roadtrip" marks the second world premier by Trevor Allen at The San Jose Stage Company in San José, following his 2005 hit "Tenders in the Fog."
"Lolita" is directed by Lee Sankowich, former Artistic Director of the Marin Theatre Company. Cliff Caruthers is the Sound Designer, Giulio Perrone is the Set Designer, Maurice Vercoutere is the Lighting Designer and Michele Wynne is the Costume Designer. Joanna Hobbs* is the Stage Manager.
Trevor Allen is an award-winning playwright born and raised in San José who began his theatrical interest at Oak Grove High School. He has also been commissioned by the San Jose Repertory Theatre to write "Valley of Sand" about Silicon Valley.
"Besides a brief stint at UCLA for theatre I spent half my life there and most of my family lives there," said Allen. "Now having spent the better part of two decades living and working in San Francisco, it is really interesting to return to my hometown as a playwright and have my words come to life there. This new production is truly like a homecoming for me."
NOTE: For the lepodopterists in the crowd, the Cyliópsis Pertepída Dorothéa is the Latin genus and species of the butterfly that Nabokov found. Said Trevor Allen in an interview in 2010, "It is brown in color rather than pale blue, his fondness for the blues is, of course, well known." The holotype resides in the Academy of Sciences in Golden Gate Park in San Francisco.
The Stage is located at 490 South First Street in downtown San Jose.

"Lolita Roadtrip" previews Wednesday, April 6 and Thursday, April 7 at 7:30 PM and again Friday, April 8 at 8 PM. The Opening Gala is Saturday, April 9 at 8 PM with an after party at Eulipia Bar and Restaurant.

Performances continue Wednesdays and Thursdays at 7:30 PM, Fridays and Saturdays at 8 PM and Sundays at 2 PM through May 1, 2011. Tickets range from $20 – $45. For more information and to purchase tickets call the Box Office at 408 283 7142.