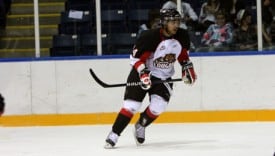 San Jose Sharks Executive Vice President and General Manager Doug Wilson announced today that the team has signed unrestricted free agent defenseman Sena Acolatse (sehna ah-koh-LOT-say) to an entry-level contract. In keeping with club policy, financial terms of the deal were not disclosed.
Acolatse, 20, has spent the majority of this season with Prince George of the Western Hockey League (WHL) following an early season trade from Saskatoon. Between both clubs, he has posted 56 points (14 goals, 42 assists) in 59 games, along with 119 penalty minutes.
"This is a great moment for me to sign with the Sharks and join a tremendous organization that is building a winning tradition," said Acolatse, who has collected 12 points in the last 10 games. "Coming to Prince George has been an excellent move for me and I want to thank the Cougars for giving me the opportunity to continue growing my game here."
He currently ranks fourth among all WHL defensemen in scoring and is tied for 28th among all WHL skaters in assists and tied for 30th in penalty minutes. Among Prince George players, he is first in assists, third in ponts and third in penalty minutes.
Acolatse becomes the first Bay Area-born prospect to be signed by the San Jose Sharks.
"We have been watching Sena for quite a while and his play has really grown this season under the guidance of Head Coach Dean Clark and his staff," said Wilson. "It's always exciting to add a prospect of this caliber to our organization but it is even more gratifying to know that Sena's interest in learning to play hockey can be traced to the inception of the Sharks franchise, who were 'born' the same year he was."
Born in Hayward, CA in 1990, Acolatse grew up watching the San Jose Sharks, attending games with his father. He soon began skating and playing hockey at the facility now known as Sharks Ice at Fremont. Due to a family relocation, Acolatse moved to Edmonton, AB in 1998, where he continued his hockey career.
"We continue to see the growth of hockey in the Bay Area and the impact that the Sharks Ice facilities are having on our local youth hockey players," says Sharks Ice General Manager Jon Gustafson. "Each year, more and more players are graduating from our Junior Sharks program and advancing their hockey careers at the D1 University or Canadian and United States Junior levels and several have earned NHL contracts. It's very exciting for these kids and their families. We wish Sena the best of luck as he takes the next step in his hockey career."
The 5-foot-11, 210 pound defenseman has notched 147 points (44 goals, 103 assists) and 492 penalty minutes in 314 WHL games with Seattle, Saskatoon and Prince George.