The pickings are hot, and there's something here to please everyone. Take in a classic Broadway musical, or venture into the outlandish, with performance dinner theater. Here's the latest round up of shows opening this week.
From San Francisco to Berkeley and to Palo Alto and San Jose, Stark Insider is there to bring you the latest in theater and arts across the Bay Area.
Let the show begin…
Fiddler on the Roof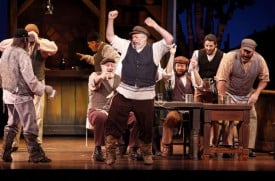 Broadway San Jose
San Jose Center for the Performing Arts
March 15 – 20
Fiddler on the Roof is a musical with music by Jerry Bock, lyrics by Sheldon Harnick, and book by Joseph Stein, set in Tsarist Russia in 1905. It is based on Tevye and his Daughters (or Tevye the Milkman and Other Tales) by Sholem Aleichem. The story centers on Tevye, the father of five daughters, and his attempts to maintain his family and Jewish religious traditions while outside influences encroach upon their lives. He must cope with both the strong-willed actions of his three older daughters—each one's choice of husband moves further away from the customs of her faith—and with the edict of the Tsar that evicts the Jews from their village.
The original Broadway production of the show, which opened in 1964, was the first run of a musical in history to surpass the 3,000 performance mark. Fiddler held the record for the longest-running Broadway musical for almost 10 years until Grease surpassed its run. It remains Broadway's fourteenth longest-running show in history. The production was extraordinarily profitable and highly acclaimed. It was nominated for ten Tony Awards, winning nine, including Best Musical, score, book, direction and choreography. It spawned four Broadway revivals, a successful 1971 film adaptation, and the show has enjoyed enduring international popularity.
Caliente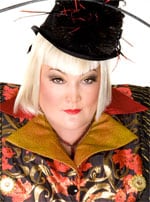 Teatro Zinzanni
Pier 29, San Francisco
March 10 – June 29
Christine Deaver and Robert Lopez (El Vez) play a brother and sister who lead a rebellion of our International Cast (playing our kitchen staff) in their efforts to live out their show biz fantasies in the Spiegeltent. Christine and Robert want nothing more than to be the Latino Donny & Marie (she's a little Country, he's a little Rock & Roll). Our Chanteuse is played by Rebekah Del Rio, of "Mullholland Drive" fame. Audience favorites Les Petits Freres, Vita Radianova, Ling Rui return to the Spiegeltent and dancer Ann Bernard makes her debut with Teatro ZinZanni.
Wirehead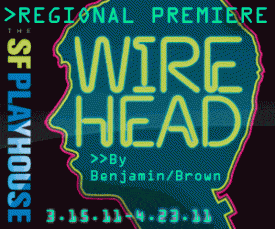 SF Playhouse, San Francisco
March 15 – April 23
Imagine that tomorrow anyone with the money could get a brain implant that automatically makes them a genius. What if you couldn't afford it and your hated coworker could? The "wireheads" in this play find themselves at odds with the rest of their office as hilarity, mystery, and tragedy ensue, and we try to answer the question: "Just because something can be done, should it be done?" (regional premiere)
Lady Grey (in even lower light)
Cutting Ball Theatre, San Francisco
March 11 – April 10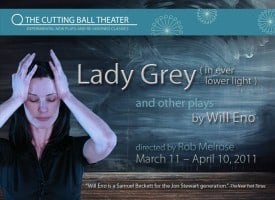 Hailed by The New York Times as "a Samuel Beckett for the Jon Stewart generation," Will Eno returns to Cutting Ball for the Bay Area Premieres of his Lady Grey (in ever lower light), Intermission and Mr. Theatre Comes Home Different. Lady Grey relives a painful memory of show-and-tell in the classroom when she was a little girl. Intermission is a meta-theatrical wonder. Like looking in a mirror, the Cutting Ball audience watches another audience during the intermission of a mysterious play. Finally, in his brief time on the world's stage, Mr. Theatre lives out the seven ages of man in a playful manner that echoes Shakespeare as much as it does Beckett in Mr. Theatre Comes Home Different.
An intimate, hilarious, and ultimately searing confrontation of actor and audience, Lady Grey is the perfect follow-up to Cutting Ball's 2009 hit production of Eno's Thom Pain (based on nothing). Lady Grey and other plays run approximately 85 minutes, including a 15-minute intermission.
Equus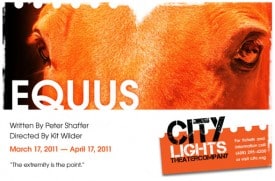 City Lights Theatre Company, San Jose
March 17 – April 17
"The extremity is the point."
When middle-aged psychiatrist Martin Dysart is introduced to the case of a troubled teenager who has inexplicably blinded six horses in the middle of the night, his exploration of the crime and of the boy's scarred psyche thrusts him into a confrontation with his own regrets, disappointments, and haunting inadequacies. Shaffer's contemporary classic, a masterpiece of theatricality and compelling human drama, pits passion against propriety as it races to its shocking and inevitable climax.