After endless lamenting of how rude people in California can be (you'd think with all the sun they'd just be nicer) it's nice to know that the South is still  as charming and civilized as ever. On a recent vacay there, I never  tired of hearing the constant refrain of "Yes, ma'am, It's my pleasure" and "Bless her lil' heart" with the occasional "Hush my puppies and fritter my corn" thrown in for good measure.
When planning your drive through Northern Georgia (accompanied throughout by incredible views of the gorgeous Blue Ridge Mountains) the important thing to remember is: there is no such thing as a wrong turn here. Every road you drive down reveals its own unique adventure, from hanging with the kangaroos to nibbling on the best fried dill pickles in Gordon Pirkle's Pool Room. Below are just some of my fave stops for you to consider:
They don't call it "Awesome Dawson" for nothing.
Start your travels in Dawsonville, located about 50 miles north of Atlanta and then just bob and weave your way up north.
North Georgia Premium Outlets:
Shopaholics will think they've died and gone to heaven with all the amazing bargains offered by the 140 designer outlets that make up North Georgia Premium Outlets. Attractively laid out in an appealing village-like setting, the deals are so good that busloads of visitors come all the way from South America for Black Friday when the stores stay open for 24 hours straight.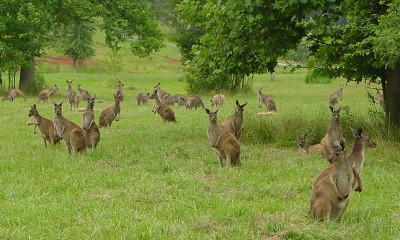 If you want to show off the safari outfit you just purchased, head to the Kangaroo Conservation Center, a.k.a. "America's Aussie Adventure" which is home to the largest collection of 'roos outside of Australia. Their"Night Hoppers" exhibit allows visitors a glimpse into the lives of some rare, tiny nocturnal kangaroos.
With all that shopping and hopping you're probably getting hungry. Refuel at the Dawsonville Pool Room, decorated in Nascar-chic out of respect to hometown racing hero, Bill Elliott. Owner, Gordon Pirkle, knows everything about racing cars, and he's only too happy to join you for some nostalgic storytelling while you chow down on their famous Bully Burger (only $2.75) and some magical, grease-free, deep-fried, crunchy dill pickles.
FYI: The Bully Burger got its name from an ol' timer named Bully, who had worked there forever. When he got older (and a little forgetful) to simplify matters, no matter how you ordered your burger, he'd bring it the same way–with everything on it including cole-slaw!
Insider tip: Save room for a slice of Dirt Pie for dessert.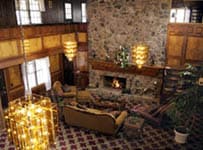 After all that testosterone, it's time for some girlie niceties and there's no better place to while away the afternoon than the 140 lush acres of Forrest Hills Mountain Resort.
You can relax in your luxurious cabin, complete with every creature comfort such as: cedar hot- tub, fireplace, furniture handcrafted by the Amish, cloud-comfy king beds and private patios. No wonder it's been repeatedly nominated over the last 30 years as one of the top 100 US Resorts.
You have just enough time for a spa treatment, or a workout in the gym, before the  Dinner Wagon Ride. After touring the grounds in a horse-drawn wagon, you'll be dropped off at the Riverhouse for a grilled steak and chicken dinner with all the trimmings, a roaring bon fire and live entertainment.
Insider tip: A full roster of spa services are available but it will be hard to pass up the Massage Of The Uwoduhi, which includes an aromatherapy facial followed by a full body massage, ending with hot stone therapy for your back, ahhhhhh!

Insider tip #2: The dinner is BYOB, so be sure to buy some succulent Georgia wines en route. I  highly recommend scoring a bottle (or better yet, a case) of Yonah Mountain Vineyard's Genesis 2 , which at a recent tasting scored higher than Jordan Winery's 2006 Cabernet Sauvignon –one of the most popular restaurant  wines in the country. For an excellent white, try the award-winning Chard from Habersham Winery. (Both wineries are open for tours and tastings.)
Moving on to Dahlongea- site of the first gold rush in U.S. history in 1828
These small towns really do make their own fun and relish any excuse for a festival or fair. Fifteen years ago a bear wandered into the middle of Dahlongea town square and climbed a tree, which begat the annual Bear on the Square Mountain Festival featuring some great old-time, bluegrass and gospel music from the Southern Appalachian region.
Shop Dahlongea's 19th century public square, filled with unique shops such as Great Fynds, A Child's Garden, Quigley's Rare Books and Antiques and Hummingbird Lane, which features the primitive folk art painter known as Cornbread.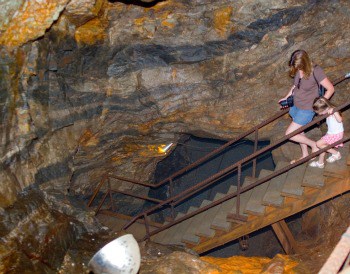 Want to learn how men used to pay for these purchases, pre- cash machines? Then join the highly informative tour of the Consolidated Gold Mine, the largest hardrock gold mine East of the Mississippi where you can try gold-panning. (Loved our enthusiastic guide, Dathan. Yup, that's Nathan with a "D").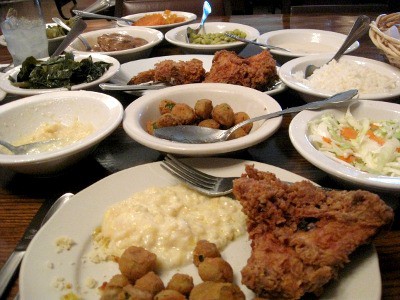 Lunch at the Smith House- the former home of a miner who struck it rich in 1884.  Once you're seated, the endless parade of platters begins. You'll feast on Southern finger-likkin' good fried chicken, sweet baked ham, roast beef; with mountains of traditional sides such as fried okra, candied yams, turnip greens and melt-in-your mouth corn muffins. Everyday feels like Thanksgiving at the Smith House.
Work off the calories with a hike to any of the 30 waterfalls in the area. At Amicalola Falls State Park, you can trek in to the highest waterfall in the Eastern United States. Dahlonega is also known for its mountain biking terrain.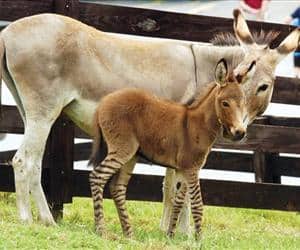 "Hey, ma, what's up with my legs?"A less strenuous option is a visit to Chestatee Wildlife Preserve to check out "Pippi Longstockings", their new Zonkey (or is it Zedonk?) which is half donkey/half zebra and as cute as can be.
Next stop: Cleveland, White County, GA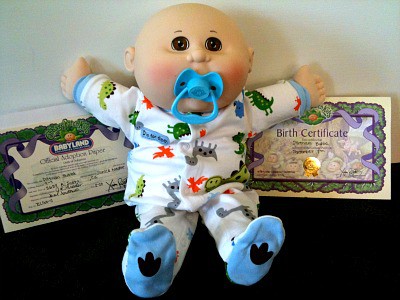 Doll is a four-letter word at BabyLand General Hospital. Once you enter this 70,000 sq. ft. home of the Cabbage Patch Kids you may call them "kids", "baby" or probably even "brat" as long as you NEVER call them the D- word.
This place is a real hoot and a definite must-see even if you're child-free. LPNs (Licensed Patch Nurses) assist Doctors in actual cabbage patch births, which are heralded by a "Nurse to delivery room – Stat" shout out over the loud speaker. Every size, shape and color of kid is available for you to buy–oops, I mean "adopt"– from vinyl-faced, bald preemies to hand stitched collectables with adoption fees running up to $50,000.  The hospital is open every day and admission is free!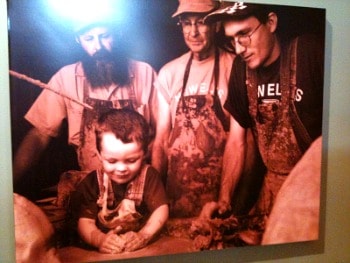 Visit four generations of local potters.
If you still haven't run out of steam, there are more "so ugly they're kind of cute" faces to visit at the Folk Pottery Museum, where a large collection of Southern Appalachian face jugs is currently on display.  The jugs were often used to hold moonshine and kids were told that their faces would look like the one on the jug if they ever tried to steal a taste.
This stunning new museum has won many architectural awards and beautifully showcases Georgia's unbroken 200-year tradition of making folk pottery along. Be sure and watch the film that includes some fascinating histories of the area potters. If you'd like to visit some of family potters and find out more about their artistic endeavors ask for the do-it-yourself driving tour map of  The Folk Potters Trail of Northeast Georgia.
These are just a sampling of the fabulously fun, quirky, unique things to explore in N.E. Georgia. I feel like I just began to scratch the peach's surface, so when the last shopkeeper said to me, "Ya'll come back now. Y'hear?"  I replied, "Hush my puppies and fritter my corn… you can count on it."