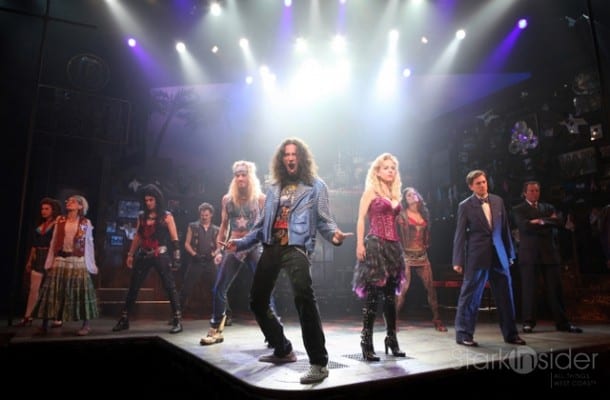 Band members from Night Ranger, a rock band with local Bay Area roots, recently came out to cheer on the cast of Rock of Ages playing the Curran Theatre in San Francisco.
Rock of Ages features Night Ranger music and mega hits from other '80s Arena Rock Bands Journey, REO Speedwagon, Styx, Whitesnake, Pat Benatar, Twisted Sister, Poison, Asia and more.
Link to the video of Night Ranger in San Francisco on opening day and onstage at the curtain call.
Night Ranger is an American rock band from San Francisco that gained significant popularity during the 80s and 90s with a series of successful albums and singles. The band's first five albums sold over 10 million copies worldwide and gave the band international recognition. The quintet is perhaps best known for the power ballad "Sister Christian", which peaked at #5 in June 1984.
Rock of Ages is a rock/jukebox musical, with a book by Chris D'Arienzo, built around classic rock hits from the 1980s, especially from the famous glam metal bands of the decade. The musical features songs from Styx, Journey, Bon Jovi, Pat Benatar, Twisted Sister, Steve Perry, Poison and Asia, among other well-known rock bands. The show is noted for being more lighthearted and comedic than other shows on Broadway. During performance, the performers frequently break the "fourth wall", directly addressing the audience and seemingly forgetting (or perhaps reminding the audience) that they are actors in a musical.
Sources: SHN San Francisco, Wikipedia.