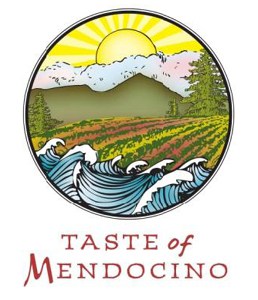 On Monday, June 13, 2011, the Mendocino Winegrape & Wine Commission (MWWC) and Visit Mendocino County (VMC) will host Taste of Mendocino at the Festival Pavilion, Fort Mason Center, in San Francisco. Highlighting wine, food, lodging, nature, activities, adventure and more, this event is the first-ever united showcase of all things Mendocino.
"Taste of Mendocino will bring the entire county directly to Bay Area consumers, sommeliers and retail wine and winegrape buyers, meeting planners, and members of the trade and travel media–anyone curious about our region," said Scott Schneider, President and CEO of Visit Mendocino County. "This will be a large-scale, inspiring event with broad appeal."
Taste of Mendocino has been traditionally hosted by the MWWC, with a focus on promoting America's Greenest Wine Region. Mendocino County is well known for its long and rich history of sustainable, organic and Biodynamic wine growing and winemaking practices, as well as its fish-friendly farming movement.
"I'm sure a lot of these wines aren't as familiar as bottles from Napa and Sonoma, which is a good reason to try them," says journalist Ben Weinberg. "The fact that they're also quite delicious should seal the deal."
This year, in a collaborative effort to support and promote the entire county of Mendocino and everything it has to offer visitors of all interests, MWWC and VMC have joined forces.
For a visitor, Mendocino County boasts expanses of pristine wild lands and coastline, charming villages, fine dining, and myriad off-the-beaten-path adventures. This integrated event will highlight regional destination representatives in addition to local food and wine producers and grapegrowers.
Attendees will enter through a living redwood forest to sample Mendocino's finest wine and food, enjoy live music and local entertainers, attend educational seminars and informal talks, and experience the products and business people of Mendocino.
The event will showcase more than 150 Mendocino County businesses, including wineries and breweries, hotels and inns, restaurants, caterers, retail stores, entertainment and cultural arts venues, grapegrowers, ranchers, farmers, festivals and events, non-profits, event venues and other area attractions and activities.
The Showcase will comprise two sessions. The session from 1 p.m. to 4 p.m. is geared to members of the trade and the media. The public tasting event runs 5 p.m. to 8 p.m.; trade and press are welcome during these hours as well.
The Taste of Mendocino Showcase

Free to members of the food, wine, travel and hospitality trade and media; for consumers, Showcase tickets are $35 in advance, $45 at the door. To purchase tickets, go to www.tasteofmendo.com.