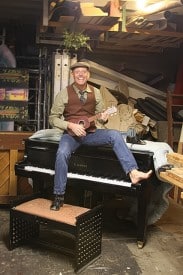 Producers Associates, Inc. of Oakland and California Conservatory Theatre of San Leandro announced that they are co-producing the world premiere of Can't Help Lovin', featuring the music of Jerome Kern, performed by Carl Danielsen, and directed by Joel Schlader.
Carl Danielsen is a New York actor with local roots; he grew up in Oakland and graduated from Bishop O'Dowd High School and UC Berkeley before studying at the Webber Douglas Academy of Dramatic Art in London, and eventually moving to New York to pursue a successful acting career. Says Harriet Schlader, President of Producers Associates, Inc. and Managing Director of the Woodminster Summer Musicals, "We talk about someone being a 'triple threat,' but Carl is really a 'quadruple threat.' He can act, sing, and dance, and he's an accomplished pianist. When he played Barnum for us, he walked on a tightrope, hung upside-down by his ankle, spinning … When he did "Singin' In the Rain," he danced up and down walls and wowed even the most skeptical Donald O'Connor fans. Carl's performances take your breath away, because he really can do it all, so you never know what he might do this time!"
Carl Danielsen lives and works primarily in New York, but he's in demand by regional theaters, and has appeared regularly in Bay Area venues. Most recently, he has performed in "Marvelous Party" and "2 Pianos 4 Hands" at Center Rep in Walnut Creek, and "Singin' in the Rain" and "Seussical" at the Woodminster Summer Musicals in Oakland.
Danielsen explains the roots of the show: "Originally, I was just interested in exploring why people become passionate about different things — composers, authors, sports, and so forth — and I found a lot of interesting answers as I looked back over my (mostly unconscious) life-long connection with Jerome Kern. The show is not a biography of Kern, but it does point out how much he influenced the birth of American Musical Theatre. The song forms that became standard in theatre were developed by Kern in the 1910s! We don't think of Kern as a renegade, but he was."
"Can't Help Lovin'" showcases a number of Jerome Kern standards, including "The Way You Look Tonight," "Old Man River," "Make Believe," "Smoke Gets In Your Eyes," "Pick Yourself Up," "A Fine Romance," "I'm Old Fashioned," "The Song Is You," "I Won't Dance," and "All The Things You Are."
Says Danielsen, "I'm only performing the songs I love and we're presenting them in an informal manner with lots of dancing and silliness. I feel like Kern has taken a back seat to other musical giants of his era, and I'm eager to share the gems people may not have heard in a while or even introduce Mr. Kern to younger people for the first time."
World Premiere of Can't Help Lovin'

A musical entertainment devised by Carl Danielsen, music by Jerome Kern

PERFORMED BY: Carl Danielsen
PRESENTED BY: California Conservatory Theatre of San Leandro in partnership with Producers Associates, Inc. of Oakland, producers of the Woodminster Summer Musicals
WHERE: California Conservatory Theater, 999 E. 14th St., in the San Leandro Civic Center (94577) Directions
WHEN: April 28-May 8, 2011, Thursdays through Sundays
PERFORMANCES April 28 (7 p.m.), April 29 (8 p.m.*), April 30 (2 p.m. & 8 p.m.*), May 1 (2 p.m.), May 5 (7 p.m.), May 6 (8 p.m.*), May 7 (2 p.m. & 8 p.m.*), May 8 (2 p.m.)
* The audience is invited to stay for informal "talk-backs" with Carl Danielsen after the Friday and Saturday evening performances.
TICKETS: $45 if purchased before April 15; $50 after April 15 & at the door; through Producers Associates at 510-531-9597 or through CCT at 510-632-8850. Proceeds benefit California Conservatory Theater and the Woodminster Summer Musicals. Information www.woodminster.com.
Photo credit: Kathy Kahn.