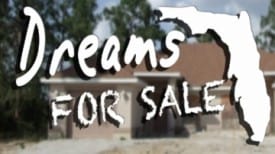 Festival-of-Films.com, an online film portal, announced its New Filmmaker Showcase — an online showcase of handpicked new works by today's most talented emerging filmmakers.
The showcase debuts with first-time filmmaker Raymond A. Schillinger's 2010 film Dreams for Sale: Lehigh Acres and the Florida Foreclosure Crisis, a feature-length documentary. The film tells the story of Lehigh Acres, a community located in Lee County, Florida, that has been identified as "one of the slums of the future" by the mainstream press. A bittersweet tale told through the eyes of its citizens, "Dreams for Sale" is about hope and despair, of prosperity and loss, and memories and dreams.
Earlier, filmmaker Schillinger had recently released  Dreams for Sale on YouTube; because of its length, the film had to be viewed in three separate parts. Now on Festival-of-Films.com's site, the film can now be seen in one continuous stream and, and in superior video quality.
According to organizers, Festival-of-Films.com is steadily developing a reputation among movie buffs as a 'go-to' outlet for compelling and thoughtful independent films, including documentaries, classics and biographies.
"Our goal at Festival-of-Films.com is to bring fans of independent films and talented new filmmakers together," commented Andy Schupak, co-founder of Festival-of-Films.com. "We are pleased to present Ray Schillinger's "Dreams for Sale" as the inaugural movie in our new Filmmaker Showcase and hope our new program inspires other new filmmakers to check out Festival-of-Films.com."
New filmmakers who would like to be part of New Filmmaker Showcase are encouraged to contact Festival-of-Films.com.